If you've worked in the area of Digital Marketing, chances are that you've come across the term 'CRM software'. With all the Marketing jargon out there, CRM softwares have grown significantly over the past decade. So much so that companies now have specific teams dedicated towards managing their CRM related work. But is there really much substance to support all the style? Are these softwares worth the hype or are they just yet another tool companies can choose to use for little to no extra benefit? If not, then what are the major CRM softwares out there for you to select to help achieve your own Marketing objectives? In this article, we're going to be outlining what exactly a CRM software is, the pros and cons and 5 of the best ones out there for you to consider. Head on below!
What is a CRM Software?
A Customer Relationship Management, or CRM software is a technological system that helps businesses interact with its departments and manage customer relationships. Most such softwares are designed to help the company better organise workflows, time management and performance efficiency while improving relationships.
A CRM solution takes data from the company's integrated platforms (Sales, Marketing & Customer Service) and keeps it organised in one place. From there on, it provides updates, reporting and analytics to help monitor progress and sales status. With the help of a CRM, employees have easy, direct access to real time client data and monitor customer life cycle progress.
Ultimately, a functional CRM software can help your business get more out of your Marketing campaign. Not only can it help acquire more leads, but it will also help retain loyal customers over the long term. Given that the global spending on CRM in 2018 amounted to over $48 billion, the CRM market is projected to be worth near $80 billion by 2025!
What are the benefits of using a CRM software?
CRMs have revolutionised the way in which companies can interact with their customers. In fact, nearly 40% of companies that have integrated CRM softwares, cite their data as a competitive advantage. For any company or Marketing team, contact management is crucial to stay connected with customers. Storing and managing data for every kind of contact can help firms stay on track with hundreds and thousands of customers with ease. Here are some ways in which using a CRM software can help a business:
Improved productivity within the business- The Artificial Intelligence (AI) used by CRM softwares can help employees make smarter and faster decisions. Data scattered across touchpoints can help estimate customer behaviour and likelihood of purchase.

Improved analytics and insights: CRM softwares can track purchasing patterns, website behaviour and customer actions to provide insights on themes and trends. As a result, companies can develop strategies to encourage more sales and results.

Better customer service and interaction: Over 85% of people claim that personalisation played a key role in their purchasing decision. CRM softwares allow specific tailoring and automation services to personalise for each customer. With this, you can ensure that each customer is made to feel special and that their needs are met. You can also utilise the automation services to follow up on existing customers and direct them down your Marketing funnel.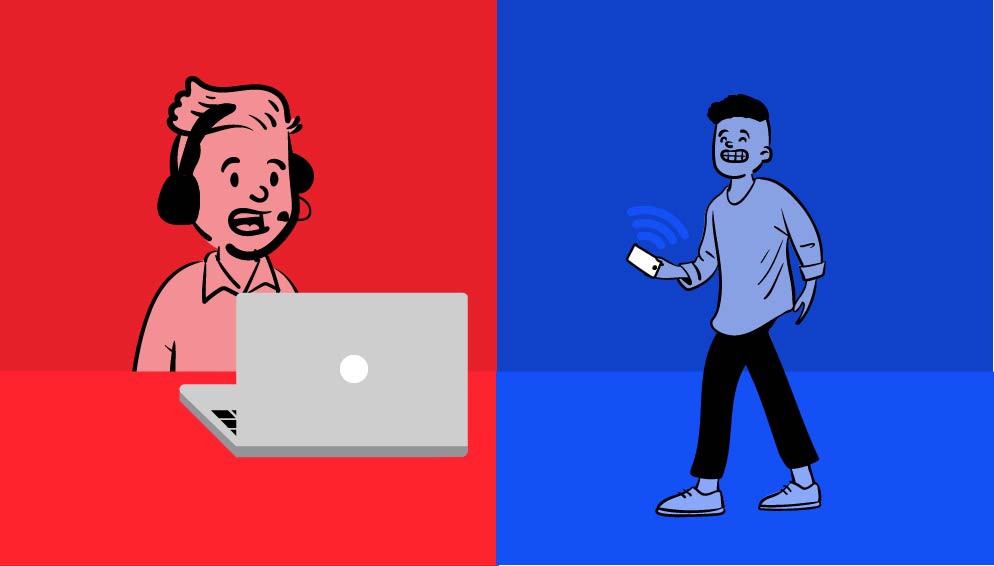 Top 5 CRM softwares to use
With that said, what CRM softwares should you use in order to reap the many benefits that come with it? With so many options to choose from, it's important to consider the right CRM system for your business. But don't worry, we went ahead and laid the groundwork for you! The following 5 CRM softwares are some of the most popular systems out there. We've compiled this list keeping in mind 3 major criteria:
Price & Value: How affordable the software and whether there is a positive return on investment (ROI)

Features: How robust the software is in providing a range of features to improve productivity

User-friendliness: How easy-to-use and comprehensive the software is to allow users to fully utilise its services.
Keeping the above criteria in mind, here are 5 popular and powerful CRM tools for you to choose. We've outlined the key features and attributes of each, so you can safely decide which one's best for your business!
1. Salesforce
Salesforce is one of the most well-known CRM softwares out there. In 2018, Salesforce held almost 20% of the CRM market share making it a popular choice amongst Marketers.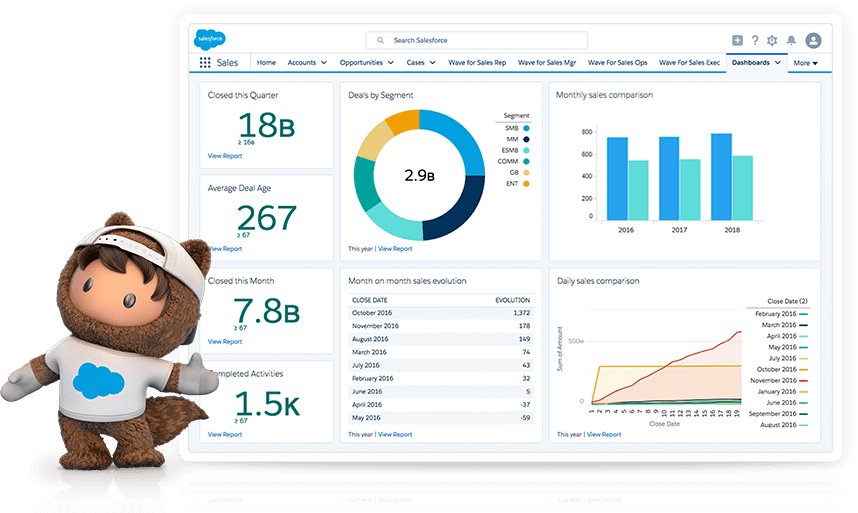 For up and coming businesses that have the potential for substantial growth, Salesforce offers a variety of services for their needs. Salesforce has more than enough features that a typical business requires, and can also be scaled up as the company grows year after year. Salesforce CRM also has an easy to use user interface (UI), with comprehensive and customisable data metrics displayed visually for better understanding. The email feature conveniently integrates with Outlook as well as Gmail, where you can send mass emails to capture leads.
Pricing (In AUD):
Essential: From $35 per user per month
Professional: From $105 per user per month
Enterprise: From $210 per user per month
Unlimited: From $420 per user per month
Compare plans here
Depending on the size of your business and your budget, Salesforce has multiple plans that can suit your needs.
2. Hubspot CRM
While CRM softwares are known to provide detailed reports of data, that's not the end of story. The real effectiveness of these softwares lies within companies' ability to use that data to improve results. Benefits such as increased productivity, better decision making and more efficient outcomes must be realised for optimum return on investment (ROI). That's where Hubspot CRM should be considered, making it easier than ever to understand and utilise CRM features for business use.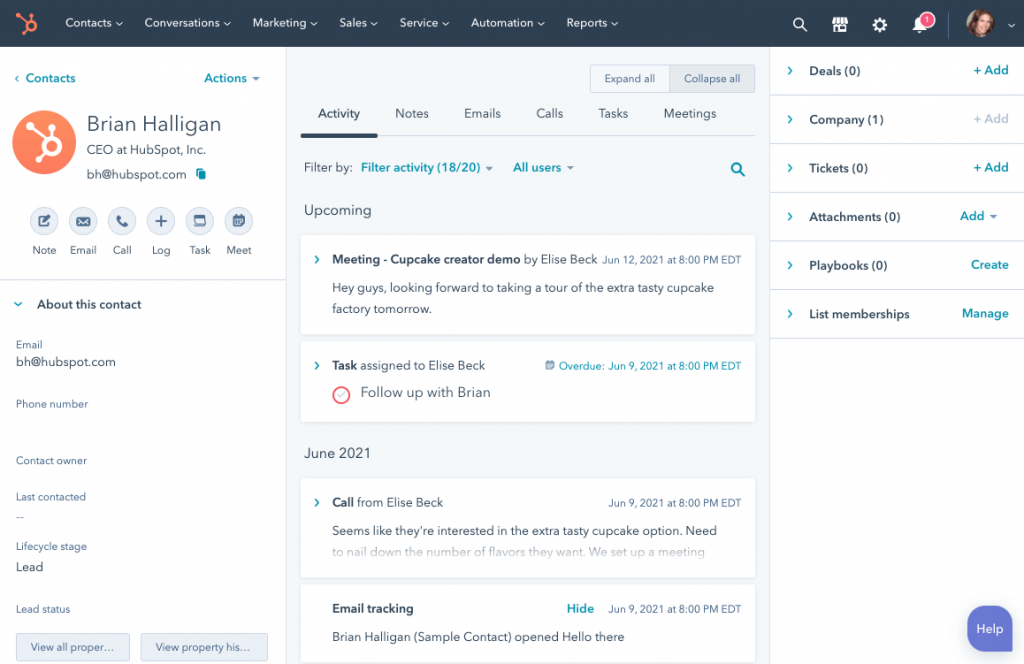 HubSpot is a great tool for companies that wish to automate their sales and marketing processes. The software includes helpful reporting such as sales funnel metrics, activity insights on team productivity and individual sales performance. Information on email and conversation threads, response times and conversions are also available with ease. Similarly, real time updates help users stay on track with each customer's journey and purchases.
Pricing (In AUD):
Starter: $68 per month
Professional: $1,150 per month
Enterprise: $4,610 per month
Compare plans here
Hubspot's key attribute is its user-friendliness. The dashboard is easily accessible and provides a brief overview of the sales process. If you're just starting out on a CRM software and don't want to undergo heaps of training, this might be for you! The starter pack provides a range of features that could be helpful in the beginning. As you advance further, the professional or enterprise plan may be more appropriate.
3. Agile CRM
When it comes to a robust and reliable CRM solution, Agile takes the cake for being just that. Agile's biggest characteristic is just how versatile and functional it is with its wide array of features.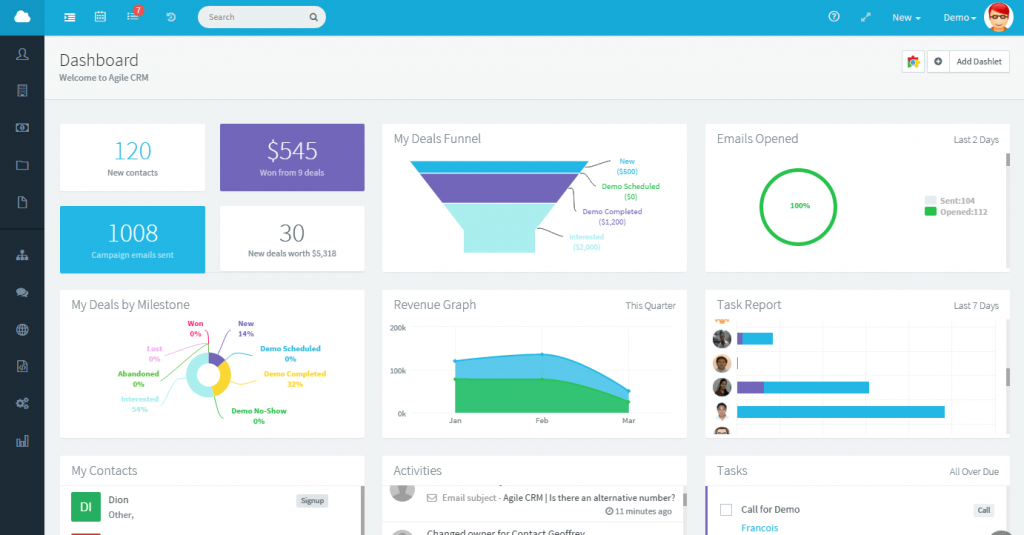 Agile is well-known for the strength of its Marketing automation services. On Agile, you can set up trigger based email automation campaigns with ease, outlining your entire customer flow along each thread of nodes. It's important to note however, that using Agile accompanies with it a learning curve because of the depth of its services. While it may not be as easy to use as Hubspot, Agile's range of features are ideally suited to those who want to go the extra mile and get hands on with their customers.
Pricing (In AUD):
Starter: From $12 per user per month
Regular: From $40 per user per month
Enterprise: From $65 per user per month
Compare plans here
As you can see, Agile CRM offers affordable pricing with its range of features, making it one of the most popular options in the market.
4. Zoho CRM
If you're someone who needs something on the go, Zoho CRM could very well become your best friend. The web version along with the app version on iOS and Android offers similar features and update. You can also edit CRM data offline, log calls, customer visits and website traffic, and more. For productivity purposes, Zoho allows reminder and goal setting, activity scheduling and calendar planning to improve overall performance and collaboration.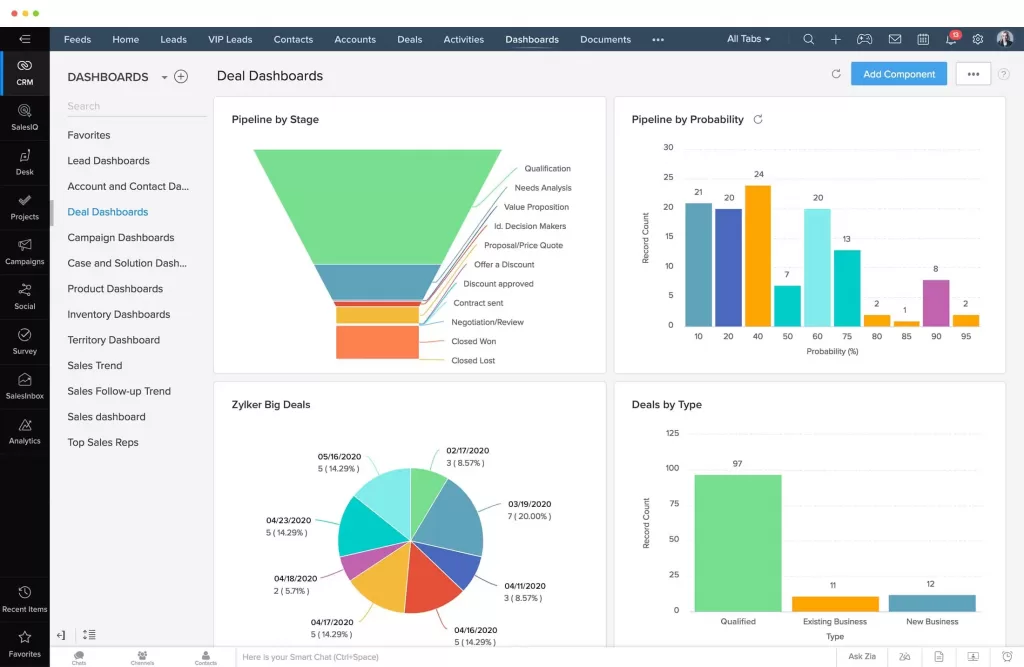 Pricing (In AUD):
Standard: From $22 per user per month
Professional: From $35 per user per month
Enterprise: From $60.5 per user per month
Ultimate: From $80 per user month
Compare plans here
The comprehensive analytics provide crucial insights for every customer in real time. If you're after a safe and flexible CRM software that you can tailor to your requirements, look no further than Zoho.
5. Microsoft Dynamics 365
Love working on the cloud using Office 365? In that case, Microsoft's Dynamics 365 CRM might be perfect for you. Dynamics 365 offers small to medium organisations a powerful solution to manage business relationships and transform their sales, marketing, and customer service processes. This system is known for its familiar and intuitive user interface (UI), making it easy to understand and operate.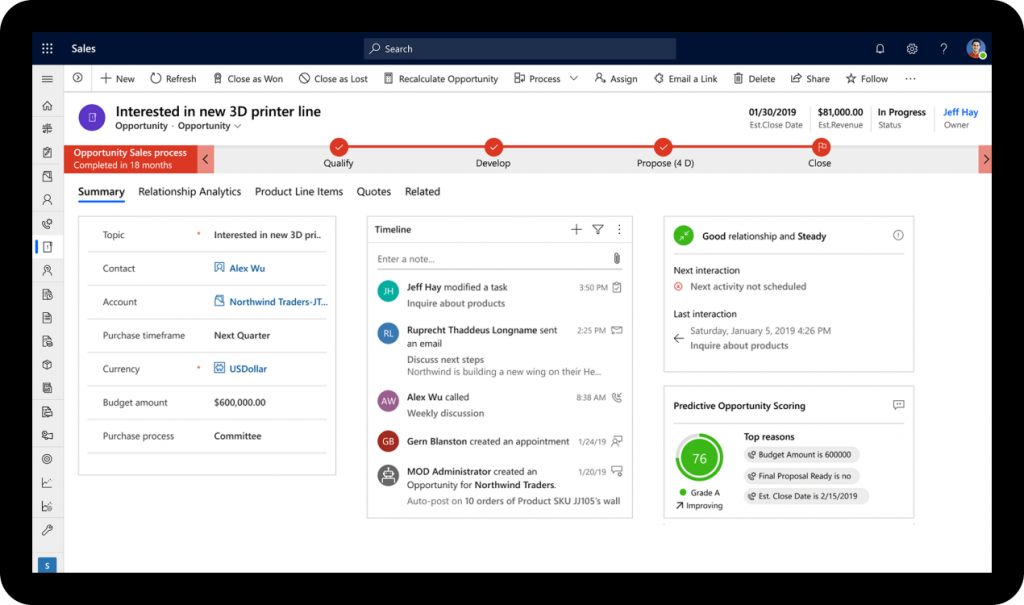 Dynamics 365 CRM seamlessly integrates with other Microsoft Office products such as Word, Powerpoint, Excel and more. This gives it a significant advantage over some of the other CRM solutions that are standalone, rather than part of an ecosystem. Moreover, this software also includes powerful built-in tools like LinkedIn Sales Navigator and AI assistants to improve productivity.
Pricing (In AUD):
Professional: From $89.2 per user per month
Enterprise: From $130.4 per user per month
Premium: From $185.4 per user per month
Compare plans here
If you're after a reliable CRM system from a well-known brand that will work smoothly with Office online, look no further than Dynamics 365.
Final thoughts…
And that's a wrap! Those are 5 popular CRM software solutions in the market for you to consider for your business. Whether you're just starting out, or are a seasoned professional, a CRM system can help your company get better results in absolutely no time. Choose now!
What is a CRM software?
A Customer Relationship Management (CRM) software is technological platform solution. It helps businesses manage their relationships with customers, service users, colleagues or other stakeholders. A CRM software uses comprehensive data metrics to help find new clients, provide customer support and track the customer's lifecycle. Often at times, CRM softwares also assist with improving productivity, organisation, efficiency and time management.
Every user has easy, direct access to the real-time client data they require. This allows for companies to provide their customers with personalised, one-to-one customer journeys. In today's day and age where everything is digital and online, a CRM software can prove to be a game-changer in terms of getting results.
How does a CRM software work?
CRM systems are usually comprehensive and take little to no time to understand. While this largely depends on which solution you opt to use, most softwares can appear quite similar. As your company generates sales qualified leads, a CRM software tracks the actions of the identified client through various online channels. These may include social media, website traffic and emails. Once the system gathers enough data, it plans a journey for you to utilise and keep them in the loop.
Whatever requirements a customer may have can then be addressed through a CRM. Depending the client's needs, you can choose to trigger an email automation campaign showcasing a tutorial or a video. Similarly, price sensitive customers can be enticed with an incentivising promotion or discount. Everything with customers is monitored on one dedicated platform with easy navigation tools at your disposal. As a result, teams become more productive and see more results in the long run.
How to choose a CRM software?
Selecting the right CRM software for your business can depend on the following factors:
Size of the business: Not all CRM systems were created the same. There are many solutions out there that provide an enormous list of features that small businesses don't necessarily require. When deciding your pick, keep in mind what your business' objectives are and what features can help you the most. Accordingly, you can choose an option that won't overwhelm your team with features.

Price & Budget: Adding on to the first factor, if you're just starting out then price could potentially be an important aspect of choice. Finding the right CRM software involves identifying which ones provide the best combination of features at a reasonable price. Once you've found an option, track the return on investment (ROI) of using the software. This will help determine whether to continue with it, or switch to an alternative.

Features & usability: Last but not least, a CRM software is only as useful as the ones operating it. A user-friendly solution is one that has services at your disposal and is accessible to everyone. To fully unlock the potential of productivity and efficiency, transparency is important within the CRM software. Only then can a team truly realise the benefits and see results.
Insil is a boutique Australian Marketing Agency, dedicated to providing customers with a holistic approach to Design Thinking and Marketing Services. If you're interested in generating more sales, increasing traffic and attracting higher quality leads, sign-up to receive a free, no-obligation strategy session TODAY.