Affiliate Marketing – A New Marketing Front!
Have you ever watched a YouTube review where the reviewer states out a disclaimer about some brands that they earn through from affiliate marketing? Or read a blog that stated the same in the beginning?
I'm sure you have been curious about it. What is this new marketing tactic that lets you earn while you are not directly associated with the said brand?
Well, it's called affiliate marketing – an increasingly popular digital marketing strategy wherein you can earn by promoting products from other people or companies.
And it works spectacularly as made evident by the fact that 70% of advertisers who already invest in affiliate marketing intend to put in more resources due to the increased ROI and impending growth of this industry.
Businesses are also on the lookout for more significant affiliate marketing opportunities and prefer it over traditional methods because they get to enjoy a 38% decrease in their marketing costs and generate three times the leads as well. In fact, 16% of online sales can be solely attributed to the works of affiliate marketing.
Affiliate Marketing – What Is It?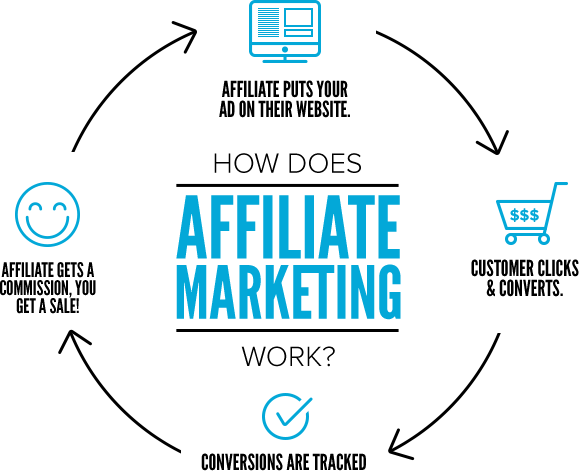 It is a process through which a person, i.e. an affiliate earns a commission when a customer buys a product that they are marketing.
Affiliate marketers attract customers through several channels and convince them to buy a product that they like and are marketing as an affiliate. And when a customer buys that product, they earn their commission from the company for driving that sale to their door.
For instance, if you wish to be an affiliate marketer for any brand, and you have your blog, you can affiliate with them and market their products on your blog. It can take the form of a blog post solely dedicated to the company that you are affiliated with and its products, or you could smoothly include the product into a relevant topic.
Then when a consumer goes to the company's website through your specific affiliate link and buys a product or service, it will be tracked and recorded under your name.
Parties Involved In Affiliate Marketing
The whole process revolves around the creators, the affiliate, and the consumer. It spreads the job of marketing a product across many people, which enables the company to take advantage of their talents, ideas, and abilities for an effective digital marketing strategy.
In return, these people get a share of the profit derived from the sales they generated.
It's essential to learn about the complicated relationship between these parties to make sure that businesses can devise a profitable affiliate marketing strategy.
Product Creators – Merchant
Product creators, also known as merchants, can range from solo entrepreneurs to full-blown corporations with a product they need to market. It can be anything – a physical object such as a coffee mug or a service such as hair cutting provided by a salon.
The Affiliate – Publisher
The affiliate – an individual or a company – attracts potential customers in such a way that appeals to their interests. They add value to their lives and offer expert insights into solutions to their problems.
Because these affiliates have a specific type of audience, they market only those products that their audience can relate to and are relevant to their interests and lifestyles. It makes them more likely to respond to a CTA, which is why this type of digital marketing is known to have a high conversion rate.
The Consumer – Customer
Customers are rarely aware of the fact that the affiliate is not just sharing information with them but also actively marketing to them.
They will complete the online purchasing process, unaware of the part they play in the company's affiliate marketing scheme.
However, some affiliates are upfront with their audience and will inform them about the commission that they'll receive from the company if the viewer chooses to buy the product through their affiliate link.
Methods For Payment To Affiliate Marketers
Affiliate marketing enables people to make money without the troublesome process of having to manufacture and then sell a physical object. That's why it attracts people who'd rather just sell products from other businesses and spend most of their time nurturing their audience online.
Their main job is to be a link between the merchant and the customer.
But how do they get paid?
Keeping in mind that a complete sale is not a mandatory or the only factor when it comes to paying an affiliate marketer, the answer to this question is discussed below:
Pay Per Sale
It refers to the commission that affiliates receive upon completion of a single sale generated through their affiliate link, i.e., when the customer buys the product using the affiliate's unique link.
In simple words, they won't be compensated until the consumer makes a purchase.
Pay Per Click
When the company you market for offers 'pay per click' compensation for its affiliate marketers, it means that they will pay based on an increase in their website's traffic.
This is where affiliates have to engage their audience in such a way that it captivates their interest, and they have to click-through to the merchant's website to find out more and connect with them.
Pay Per Lead
As the name suggests, this method compensates the affiliates when they successfully convince the consumers to visit the company's website and respond to the desired CTA. The consumer may be required to fill a contact form, subscribe to a newsletter, download a file, or sign up for a product launch.
Types Of Affiliate Marketing Mediums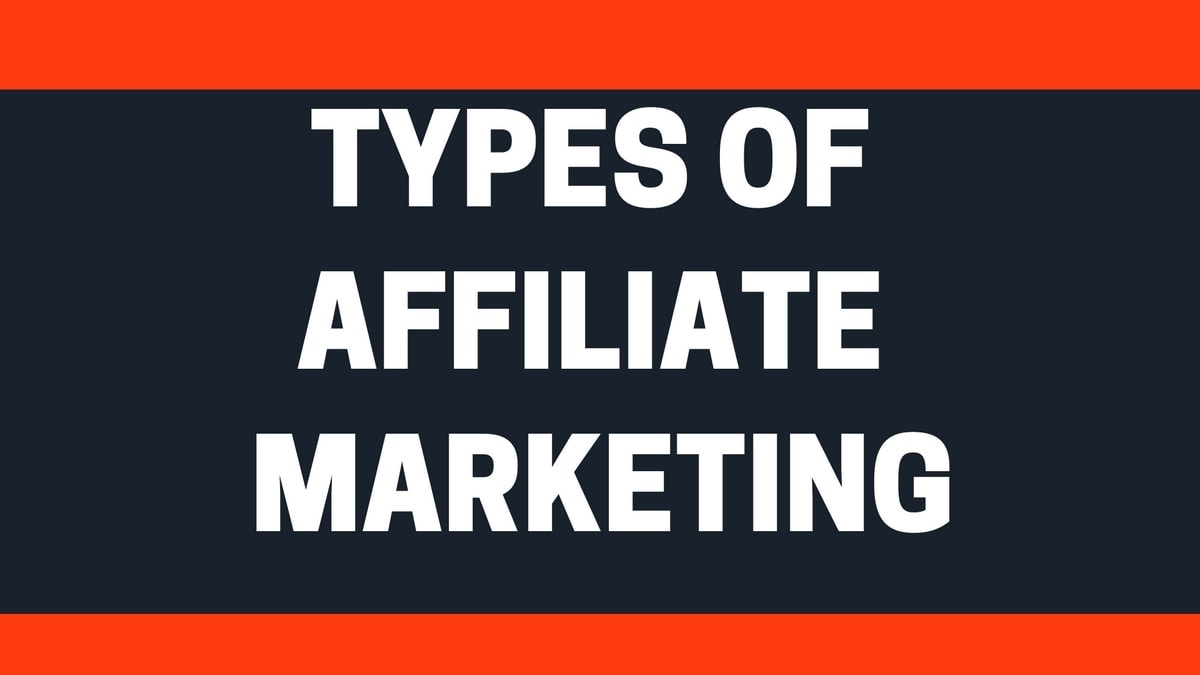 Whenever a company's digital marketing strategy comes into action, its main focus is to indulge its audience and make them receptive to your brand.
Affiliate marketing can happen through a variety of channels, including:
Bloggers
A company sends samples to the bloggers so they can review and recommend these products to their audiences.
These bloggers may write extensive reviews on their blog, detailing their experience with the product, service, or brand. They can convince their respective audiences to buy the product which improves then sales for the company in question.
With more than 80 million blog posts going up every month, the most significant advantage that companies enjoy through their affiliation with bloggers is the ability of their posts to rank in search engine queries, both organically and in featured snippets.
Influencers
An influencer is an individual who holds enough power to sway and leverage the purchasing power of consumers towards the products and services that they market.
They use social media platforms to interact with their vast number of followers, and due to the considerable command that they have over them and their actions, it is easy to direct them towards the company they are affiliated with.
They also, like other affiliates, have a share in the profits they helped to generate.
Email Lists
Many affiliates gather email addresses of their readers through newsletter subscriptions and other ways. These emails are then used for marketing products and services for their merchants.
For example, an affiliate can send an e-newsletter that contains hyperlinks to the seller's products, thereby earning a commission whenever a consumer purchases the marketed product through that hyperlink.
Media Websites
Such websites aim to have viewership in millions and generate a tremendous amount of traffic at all times. Merchants can use these sites for affiliate marketing of their products, while also attracting more leads, boosting their conversion ratio, and improving their sales.
Advantages Of Affiliate Marketing
There are many reasons to use this form of digital marketing technique. Some of them are:
A Source Of Passive Income
A company that invests time and resources in the development of a sustainable affiliate marketing strategy will see high returns because of it over time.
In short, the company produces revenue using their affiliate's work, long after they have finished it.
Even if the company is not actively engaged in any marketing activity, the skills and marketing efforts of multiple affiliates will bring in a steady flow of income.
For example, a blogger who has viewers in the thousands can quickly produce an adequate number of sales for the products that they choose to market on their site. Not just immediately, but also over a long period as readers continue to come across the article related to that product.
Highly Cost-Effective
Companies that use traditional methods of marketing require considerable investment for it. The same goes for a lot of digital marketing methods as well. However, companies that use affiliate marketing for their products and services incur little to no costs.
It not only helps them get started with their marketing campaigns quickly as there is no initial affiliate fee but also is relatively straight-forward.
Several Ideas At A Time
What will work better – a round table of ten people from your marketing department or fifty to a hundred individual affiliate marketers? Which one do you think will generate a broader range of ideas that are not only effective but also creative?
Sometimes, businesses employ many bloggers, influencers, or vast media websites at a time. This gives them a pool of quality marketing ideas rather quickly, as these individuals produce content to market the product to their audiences effectively.
It widens the marketing campaign and increases the chances of conversion as it encapsulates input from a lot of people with different backgrounds, ethnicities, races, etc. that the consumers can relate to.
Performance-Based Payments
In affiliate marketing, the company pays for work that has been done through different methods mentioned above. It works because this form of digital marketing ensures an outflow of cash only upon an inflow of revenue, i.e. payment will be done only if the marketing efforts of affiliates produce the desired action – i.e., more sales or higher traffic.
End Note
Affiliate marketing is an optimum solution for companies that wish to increase their performance-based revenue and market their products and services through various channels and mediums.
Working closely with an affiliate can enable the sellers to generate a passive inflow of income.
Although the rate of conversion depends on the affiliate's marketing skills, it is still an effective way to meet a company's revenue goals.
In short, affiliate marketing is a relatively straightforward process that works via reviews, social media posts, blogs, and other digital platforms that give rise to a new marketing force waiting to be reckoned with.
If you include this form of digital marketing in your company's overall marketing campaigns, you'll engage your targeted audience easily, and enhance your sales as it will convert dormant viewers to purchasing consumers.