Designing and Marketing often go hand in hand. Marketing is the field known for creativity and letting people run wild with their imaginations. With so much going on in the digital space, namely social media, websites, photos and videos, graphic designing has never been more popular. Moreover, not everyone is proficient with using softwares such as Adobe InDesign, or Affinity Designer to create beautiful imagery for their business. Here's where Australian success story Canva comes in, helping individuals and businesses across the world design to their heart's intent. With over 10 million users, over 100 million designs, and a net worth of over $3 billion, Canva has taken the online creativity space by storm. So to sum up, what's the secret to Canva's monumental success? Let's find out!
What is Canva?
Canva is the one stop hub for making professional designs. Everything from presentations, social media posts, videos, posters, logos, flyers, email templates, you name it. To add on, Canva uses a wide range of beautiful templates, images and icons to help you make beautiful designs.
How it all started
In 2007, 19 year old Melanie Perkins was studying at The University of Western Australia in Perth as a Commerce and Communications student. During her time, Melanie used to teach students how to use photo editing softwares such as Adobe Photoshop and InDesign. As a result, she found that most students found these difficult to learn in time, especially because of how complex they can get.
People would have to spend an entire semester learning where the buttons were. For example, even the simplest tasks like exporting a high quality PDF file, could take 22 clicks.

~Melanie Perkins
(Source)
Thereafter, Melanie took out a loan with Canva's co-founder Cliff Obrecht to bring together a tech team to build Fusion Books. Fusion Books became a success, and is Australia's largest school yearbook publisher, but Perkins and Obrecht wanted more. Moreover, all they needed now was a technology co-founder, and so they encountered Cameron Adams. Adams was a hardcore Googler, having worked on various different projects who shared Perkins' and Obrecht's vision. Therefore, driven with a passion to make a change, the three of them began building Canva.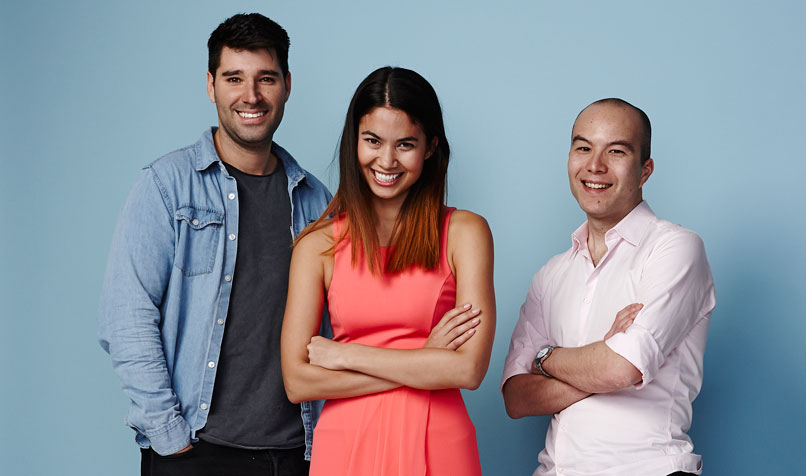 Growing strong:
Realising the scope that Canva had to grow, Perkins flew from Perth all the way to Silicon Valley to pitch her idea to famed tech investor Bill Tai. Seeing the potential for growth, Tai invested in Canva to kick things off. Furthermore, Canva completed a $70 million funding round which valued the company at $2.5 billion. Later, Canva announced that it had acquired free stock photography companies Pexels and Pixabay.
Armed with a fresh round of funding, Perkis and the team set out to make Canva the #1 tool for people in the modern workplace.
"What makes Canva special, is that it solves a problem which affects a lot of people. Design can be really difficult and daunting for non-designers. Moreover, people today are expected to product professional quality designs. We want Canva to be the place to go by default, which is why it's free to use."

~Melanie Perkins
(Source)
How they did it
Canva's story rests on a simple step-by-step strategy that helped that gain an upward trajectory of success. Secondly, they never used any form of paid advertising in their approach to inform prospects. Magic? Not really. To start off, let's explore some of what they did:
Customers first!
The team knew that the route to customers' hearts was to develop a good product/service, and really listening to what they want. Tapping into the problems that customers were facing, Perkins knew that the solution was to make life easy for them. What's more? Canva addresses the problem of difficult designing, by providing an easy to use customer interface for people.
"It was not just the tools themselves that were preventing people from creating great designs, but also people's own belief that they can't design. We needed to give them design needs and feel happy and confident clicking around. Therefore, we spent months perfecting the onboarding experience paying particular attention to users' emotional journey."

~Melanie Perkins
(Source)
To sum up, happy customers = happy business.
Spreading the word…
Word-of-mouth (WOM) advertising is one of the most underrated forms of advertising out there. Amidst the popular choices of paid search, pop ups and promotions, WOM advertising is endless, free and bound to help companies grow if they make a good first impression. Secondly, the early adopters of Canva became the company's very own advertising engine. Design sharing through WOM and social proof is just what they needed.
A Company Driven Forward
Even after everything the company has been through, Canva is showing no signs of slowing down. Eager to compete with the big players in the market, Canva is introducing more and more features for its user base. For example, the launch of a video-editing tool and an apps suite to be a free alternative for Microsoft and Adobe. By offering limited sets of templates and options, Canva hopes to create material for their own listings for growth. Moreover, with 85% of Fortune 500 companies already using the platform, the team isn't planning on slowing down any time soon.
To wrap up…
Canva is one of the best examples of companies that identified a gap in the market, and addressed it. What's more? Perkins and her team have worked on providing a viable solution for customers, and have been immensely successful. Who knows what's in store for this brand? Only time will tell!
What is Canva used for?
Canva is a graphic designing platform where you can create a wide variety of designs for personal or professional use. Secondly, Canva offers its customers with a range of different templates to choose from, allowing an easy-to-use user interface that supports all sorts of business goals. With over 10 million users, over 100 million designs to choose from, Canva aims to compete with the big service providers such as Adobe and Microsoft to help users get easy access to beautiful graphic designing.
How did Canva grow into a successful business?
Canva's success story rests on the fundamental principle of 'giving customers what they want'. What's more? Founder Melanie Perkins knew that for most people, learning professional designing softwares was difficult and time consuming. Here was the gap in the market that she identified, and began Canva. After establishing a proper business model for the company, Perkins pitched the idea to Silicon Valley investor Bill Tai, who saw the potential for growth. The company used the help of some initial investment funding, as well as heavy word-of-mouth advertising. Soon after, Canva grew into a popular name amongst individuals and businesses. Since then, Canva has shown no signs of slowing down by introducing new features to keep its customers hooked and satisfied.
What can be learned from Canva's success story?
Canva's story is the perfect example of how a startup idea, if worked on effectively can lead to a worldwide success. Canva didn't rely on fancy, costly methods of growth like paid advertising. Instead, they used funding and word-of-mouth advertising to get the initial 'push off the ground'. Moreover, Canva and its founding team are driven forward to bring about a meaningful change. By consistently introducing newer features such as video editing, as well as new templates for users, Canva is making a strong mark in the industry.
For businesses that are hoping to find some inspiration to get started, Perkins and her team provide a great example to look upto. Furthermore, any idea, if addressing an existing problem in the market, has the potential to become something big and successful.
Insil is a boutique Australian Marketing Agency, providing customers with a holistic approach to Design Thinking and Marketing Services. Are you interested in generating more sales, increasing traffic and attracting higher quality leads? Sign-up to receive a free, no-obligation strategy session TODAY.