The age old question, one that startups as well as established businesses ask all the time. "How much do we really need to spend on Advertising?" If only the answer was that simple. Truth is that if you opened this article expecting a simple answer, then you might be disappointed. Or better yet, if you were hoping for a ridiculously low amount we'd recommend you spend like $400-$500 per month for your digital advertising, you're in for a surprise. Different businesses across different industries naturally have a different requirement for their advertising. There's no 'one size fits all' for this and businesses must carefully measure out their budget and planned spending to successfully achieve their goals. In this article, we're going to run through a step by step approach on how you can determine the amount you should be spending on your advertising for maximum benefit. Read on below!

Before spending on anything….
The rule of thumb before spending a single dollar on anything for your Marketing, is to plan and strategise. Countless businesses are under the misconception that simple spending more will lead to better results. While it's true that more money invested can help yield better outcomes, this is highly dependent on how relevant the spending is to the business' goals and activities.
For example, let's take a company specialising in medical equipment for the elderly such as hearing aid. Secondly, let's take the most popular medium for advertising today- social media. As per statistics in 2019, 90% of adults aged between 18-29 in the USA use social media. Compare this with the mere 40% of adults aged 65+ that use social media. Given this data, if the company decides to spend majority of its Marketing budget on social media advertising, it would not yield a positive result in sales because most of its primary target audience does not use that channel. Instead, the company would need to identify the most popular channels for its target market, and spend on those.
Therefore, before proceeding further to our steps to plan your spending, identify your goals and target market. Your spending and the channel your choose will differ from another business. Make sure your goals are SMART (Specific, Measurable, Achievable, Realistic and Time-bound) so you can revisit them from time to time. It will also help you manage expectations from your Marketing activities. Once that's done, you're ready to proceed to the fun stuff.
1. Establish your Advertising Goals (Keep them S.M.A.R.T)
Before spending a single dollar, you need to establish what you're marketing for. The first step towards planning your marketing budget allocation is determining your business' goals. The S.M.A.R.T approach to goals works best. When establishing your goals, you need to ensure they are:
Specific: Avoid having a vague or generic goal that is difficult to work on
Measurable: Have a goal that is easy to audit and track progress
Achievable: Establish a goal that is well suited to the resources and capabilities of your business so you can achieve it
Realistic: Don't bite off more than you can chew. Have a realistic goal that is not only attainable, but also relevant to your business
Time-specific: Have a proper time frame in relation to the goal so you can work towards achieving it within that time period
A few examples of goals can be:
Increase website traffic by 5% over the next week: This can be measured by number of unique visitors per month
Increase targeted leads visiting the website: Measured by total number of visits to a web page from a certain demograpic filter
Boost e-commerce sales by 25% over next 6 months: Measured by number of sales
Next, you need to check in to see if you have a strong Marketing foundation. This includes a great brand, website, channels of communication and reporting systems. Your brand must be clear and up to date that identifies your company and keeps a consistent image across the internet. Your website must be glitch-free, responsive, attractive to look at an easy to navigate. This includes ensuring your customers have little to no barriers involved with making a purchase, download, etc. Lastly, you need to ensure you have a strategy in place to foster your business development and all the marketing ideas involved in the process.
Once you have these goals in check, you can proceed to planning your budget.
2. Plan your Advertising Budget
With advertising, the easiest way to think of your budget is this. 'You get what you pay for'. As simple as that. If you expect to see fast results while keeping your spending relatively low, you're setting yourself up for failure. Depending on your goals and your timeline, you can allocate your budget to channels accordingly. For example, you would require an aggressive advertising plan with high spending to attain a short term goal. Alternatively, your spending can vary between low and high if your goal is spread across a long period of time. The following chart illustrates advertising media owners' revenue from 2012 to a projected 2026: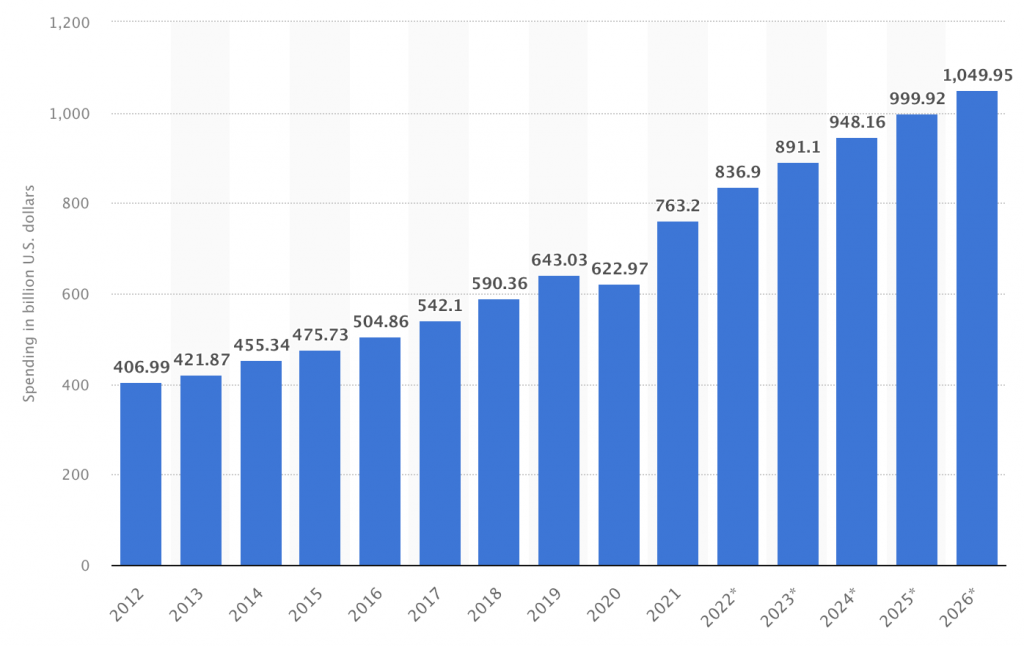 As you can see, the worldwide spending has steadily gone up over the past decade because of how effective online advertising is. Furthermore, 27% of internet users claim they find new products and brands through social ads.
Of course, that's not the end of it. We wouldn't have this article if there weren't any numbers involved for you. If we take the average business and plan its budget, how much would be required and what would it yield? Take a look at what you can expect if you spend:
Less than $500: If you have less than $500 to spend, you don't have a lot to work with. With less than $500, at most you can probably begin establishing somewhat of an online presence, mainly through social media. You can also dabble a little bit with social media advertising, but that's about it.

$500 – $6,000: A spending amount between this range can help you set up a website using template builders such as Wix or Squarespace. You can also design a logo and some business cards, brochures and more online adverts to build your presence. However, with this budget you would need to invest a whole lot of time as well, since you won't be able to automate much.

$6,000 – $10,000: This kind of a budget works for businesses with a revenue range of around $50k – $100k. With this budget, you can begin generating sales on an e-commerce platform, improve your brand's SEO and presence, organise small workshops and increase email marketing and blog work.

$10,000 – $20,000: With this spending, you can start dabbling with web analytics to track your progress and make changes. You can also kick off some basic Marketing consulting and try a Customer Relationship Management (CRM) software. Towards the $20k mark, you can include some basic advertising printing, video marketing and copywriting services as well.

$20k – $50k: Now you can implement some paid traffic optimisation and management. A CRM software will be highly useful and within your budget. You can also afford to use multiple channels of marketing throughout.

$50k+: Anything above $50k will set you up to become highly competitive in the online marketing space. You'll have a high performance website that generates sales and improves conversion rates. Your fully automated CRM system will help you stay on track with new and existing customers. Print advertising, social media advertising and video based Marketing will keep traffic flowing throughout and keep your brand strong across all channels.
To find out which suits you best, a good place to start is to have a look at your cash flow and profit to identify how much money you have to spend on digital advertising. If you set an unrealistic budget you can't afford, you are compromising on the long term success of your campaign. It's better to start off low if you need to, and slowly work your way up.
3. Be Patient, Audit and Review
They key point to note with your campaign is that your advertising budget must work in alignment with your business' needs. Re-evaluating your spending will help you identify the most profitable initiatives and make changes accordingly to maximise impact. As we outlined earlier with the SMART goals, being able to measure your campaign's success is an integral part of success. Say you've spent over $5,000 on a solid online ad campaign but the results it yielded did not meet your expectations or reap enough profit. Being able to track this progress will help identify whether or not this way of advertising should be continued, or replaced with an alternative. If Facebook isn't doing much for your business, maybe Google will, for example.
Secondly, it's important to note that there are plenty of free, organic opportunities to improve your brand's awareness on social media. Many businesses start off with little to no spend to build an identity with a customer base, before beginning to spend online. Your starting point must be determined by your business and where it stands. Be patient with your campaigns and consistently revisit them to ensure success.
Conclusion:
How much you should spend on advertising largely depends on your business, your industry, your budget and your target audience to name a few. It would be unfair to have a one-size-fits-all approach as that simply would not work. Instead, use this guide to kick start your planning stage and begin your advertising journey one dollar at a time.
Do I need to spend on advertising?
The chart illustrated earlier showcased how the worldwide advertising spending has gone up over the past decade. This is because of how effective online ad spending can be. Online ad spending can be a powerful tool, allowing businesses to segment their ads and specifically target groups of people for maximum benefit. Without proper ad targeting, you're limiting your potential to get results.
Where should I spend on advertising?
In 2022, the internet has developed multiple avenues for online advertising. Instagram, Facebook, Google, YouTube, LinkedIn and TikTok are only a few names of social media platforms where you can advertise to get a high reach. Where you spend largely depends on who your target audience is. For example, if your product or service is an app for younger people, social media platforms could help you. Alternatively, you can audit and review to see which tools work best and yield the best results if you're uncertain. Then take it from there.
How much should I spend?
While it is true that the more you spend, the more results you can expect, this is not universal. There are companies who have spent thousands of dollars but have not seen good results because their spending was not relevant to their business. Every business has its own set of needs and therefore, requires a tailored approach. You can start off small and slowly build your foundation for spending, or start big if you know where to spend.
Insil is a boutique Australian Marketing Agency, providing customers with a holistic approach to Design Thinking and Marketing Services.
If you're interested in generating more sales, increasing traffic and attracting higher quality leads, sign-up to receive a free, no-obligation strategy session TODAY.