The Ultimate Guide To Remarketing
Remarketing is an advertising strategy used by digital marketers to target consumers based on their previous actions on the Internet.
The fact of the matter is that only 2% to 4% of traffic converts on the first visit for most websites – remarketing helps them reach the other 98% that didn't convert straight away.
While remarketing is highly effective, it pales in popularity when compared to more popular digital marketing techniques like SEO, content marketing, etc. but it is just as important for businesses that sell online.
It's becoming more common as more than 30,000 websites in Australia have started reaping its benefits.
This form of online advertising is solely dependent upon the phenomena that the more the customers are to see an ad, the more likely they are to convert.
What Is Remarketing?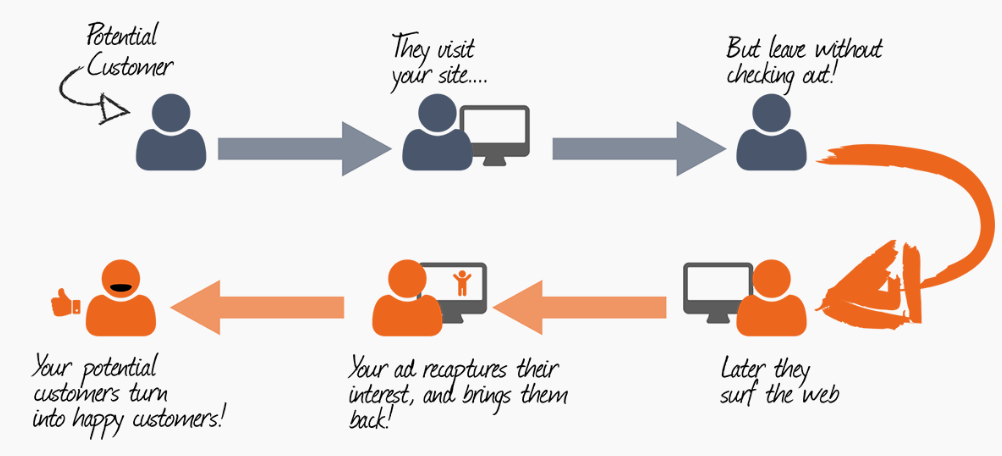 Remarketing, as the word suggests, is a technique used by many companies to reconnect with the customers that came onto your website but left without responding to any CTAs or checked out mid-session. It is a highly strategic way to display your advertisements to such customers while they continue to browse the web.
Unfortunately, it has often been confused with retargeting, so let's get that out of the way.
Remarketing vs. Retargeting
Initially, both of these techniques are used to interact with customers that have connected with your brand previously. The main difference lies in the way these two techniques are implemented.
Retargeting is used to display an online advertisement to a targeted visitor who left your website without performing an action. It uses cookies and/or tracks pixels that follow the user around the web and show them your ads again and again. It involves third party networks like YouTube, Facebook, and Google AdWords, etc., which gives your brand exposure across multiple websites.
On the other hand, remarketing has a much broader influence than display ads as it helps you reach out to your customers through email lists, personalized suggestions, a variety of incentives as well as add-on products.
For example, if a user visited your website for a specific reason and then navigated away from it, retargeting will involve following them and displaying the products they viewed on your site as an advertisement, no matter where they are online. And remarketing will send them an email (if shared with your website) for the same purpose.
Usually, these terms are used interchangeably by marketers whose fundamental goal is to remind your audience to complete the purchase or respond to your CTAs.
Collecting Information For Remarketing
To run these campaigns, you need to identify your online target audience – here are two ways of doing it:
Remarketing Using Pixels
This method uses a JavaScript Pixel (a small code) that is embedded into your website. Whenever a user visits your website, the Pixel stores a cookie in your user's browser. Now even if they leave your website, the pixel follows them onto other websites or social media sites that they visit and lets the third-party provider (YouTube or Facebook or Google retargeting) know that your ads need to be displayed in front of the user again.
This ensures that your advertisement is seen by the consumers again and again. Moreover, this type of remarketing is time-based, so consumers will start viewing your ads almost immediately, which leads to a higher chance of conversion.
Remarketing Using Email Lists
As the name entails, this type of remarketing uses the email list collected by your website. You upload the email list into your remarketing program, and when any of the users on the list browse the web, they immediately start coming across your advertisements.
You can also send personalized emails to such users regarding the product pages they visited on your website in the past. For instance, if your visitors have been ignoring your free e-book, this technique can remarket the download option to them via email.
Types Of Remarketing Campaigns
Remarketing increases your ROI and boosts your sales by increasing the conversion rate and redirecting bounced visitors back to your website.
Here are several ways to just that:
Standard Remarketing
This is basic remarketing, i.e., displaying your ad to visitors (who exited your page) while they are surfing through other websites. It also targets users who connected with your website in the past and who are now searching for a product or service similar to yours.
Dynamic Remarketing
This one shows ads to your visitors based on their behaviour on your webpage. For example, if your customer spends more time on the pricing page and then exits your website, the ad shown to them will specifically revolve around pricing options showing them discounts or vouchers available.
Another great example would be when your customer puts items in their cart and then closes the webpage; the ad sent to them via email or shown on other platforms will specifically show them the items they had earlier added to the cart.
Video Remarketing
As visual aids have a higher acceptance rate than text, video remarketing is an excellent tool for enticing a response from the customers. It works by showing your ad videos or short clips to the people that either recently visited your webpage or viewed your videos.
You might have seen short ad clips in the middle of any video you're viewing on YouTube (with a skip option, of course) or before the video even – this is video remarketing. These ads can also be placed at the top in the video suggestions column for your viewers to see.
Email Remarketing
As mentioned before, email remarketing involves sending personalized emails to your visitors, depending on how they spent time on your website. If they left just before checking out, it'd show them their pricing options, and if they left while still browsing through your products and services, they'd be sent an email regarding their abandoned cart items, etc.
As emails have an average open rate of 19% and an average click-to-open rate of 14.1% in Australia, the other path this remarketing technique takes is also essential. It involves showing your ads across different platforms to a user that opened an email earlier sent by you to them.
Let's discuss this with an example: a visitor gave you their email address, and you sent a promotional email to them about your products or services, and they clicked open the email but didn't complete the purchase. Your remarketing strategies will now encourage them to come back to your website and complete the purchase by showing them your ads everywhere they go online.
Remarketing Through Search Ads
This Google AdWords service lets you tailor your ads for the prospects that have already visited your brand in the past and are now searching Google for similar solutions. With a steadyinterest in this technique shown by Australia's business sector, it's essential to learn how it works.
Using Google AdWords involves bidding on keywords – the higher your bid, the better your placement in the Ads section, and mainly works in two ways:
You bid on your existing keywords for the consumers (prospective and current) on your remarketing lists. It's to attract visitors that have taken specific actions on your website like read FAQs or browsed through other information. When such visitors search for similar things on Google or its partner sites later, your ad will display in the Google Ads section of the search results.
Similarly, you bid on uncommon keywords for the visitors that have already engaged with you. This broadens your search net as now it includes words that the visitor might use to search, which you hadn't bid on before. This improves searchability and diverts the consumer back to your brand by showing your Ads section of search results.
Now that we've learned about the types of remarketing campaigns, the next chapter of this article explains how to set up your remarketing campaigns!
How To Setup Your Remarketing Campaign
Google is the top remarketing platform, and this section will discuss how to set up your campaign on the king of search engines.
Remarket Through Google AdWords
With 2.3 billion Google searches happening every second, your ad can potentially receive extensive exposure through Google Ads.
Before you start, know that Google requires a minimum number of visitors in your list to remarket your ads.
Once you've tagged your site for this purpose, the people visiting your webpage will automatically be added to the list following the rules you've set like the minimum time they spend on your webpage for them to be added to the list, etc.
To get you started, here's how to set up your Google remarketing campaign:
Login or set up your Google Ads account.
Go to the 'Shared Library' and open 'Audience Manager.'
Click on the 'Audience Sources,' which will open a list of sources where you can create your marketing list.
Then go to the 'Google Ads tag' and press on 'Set Up Tag.' If already set up, then click 'Edit Source' from the options icon in the top right corner.
Select the type of information your tag will collect, depending on your rules and preferences.
Then click on the 'Create and Continue' option (when creating new tags) or 'Save and Continue' (existing tags).
Click 'Done' and on the next confirmation screen, press 'Done' again.
In the days following this setup, your tag will start collecting cookies from the visitors that land on your website, and the remarketing list automatically created by Google AdWords, will fill up with these cookies.
You can also opt for creating a customized list of visitors to deliver better-targeted ads to them.
Once you've set up your Google remarketing platform, run tests on it to see if it works the way you intended, or if it needs modifications.
Test Your Remarketing Campaign
It is important to run trials to understand with ad types are suitable for your remarketing needs. Try some of these:
Frequency Cap Testing –refers to the number of times your campaign showcases your ads.
Bid Testing – analyses the relationship between your bid costs and ROI and adjusts them to your budgets.
Combination Testing – lets you try different subscription options with a range of audiences to test their responses or different types of ads with various CTAs to determine which combination produces a high click-through rate to increase your overall ROI.
In Conclusion: Give Remarketing A Try
Remarketing helps you reach the massive amount of visitors that came to your site but left without converting. Through it, you can target categorized audience lists with remarketing ads related to them and their specific searches. This will create personalization and help increase the probability of consumer conversion, while also building awareness of your bran