If someone were to ask you 10 years ago what the biggest social network platforms were, what would you say? Your answers may have included: Facebook, Instagram, Snapchat, Twitter and maybe MySpace. Today, 4 of those names would still remain in the list, but with the addition of two more platforms: YouTube and TikTok. That's right, over the past decade, the importance of video-based entertainment has grown to a significant level. While we won't be discussing TikTok in much detail, this article will primarily focus on YouTube. Most marketers are already familiar with the process of Google, Facebook and Instagram advertising. However, if you want to tap a lucrative segment of the market in a way that maximises ROI, YouTube marketing is the way to go. In this article, we will be outlining the necessary steps you need to get started with YouTube marketing. Head on below!
YouTube today
YouTube has experienced exponential growth over the past few years. Here are some mind-blowing statistics about YouTube today:
YouTube is the second largest search engine in the world, behind Google of course
YouTube has over 1 billion unique visitors each month, with over 2 billion users on its network.
Approximately 400 hours of video content is uploaded onto YouTube every minute
17% of all internet traffic flows through YouTube
These are just a few facts to get you excited about how big YouTube is today. With channels ranging from health, productivity, fashion, sports, politics, sciences and so on, there's something for every customer. Regardless of what you want to watch, search it in and YouTube will present whatever is most relevant. Given the large user base of content creators and consumers, YouTube has created a network that functions everyday through content generation.
Why YouTube marketing?
All that's fine, but you're probably thinking what good YouTube can be for Marketers specifically.
As we mentioned above, YouTube has something for every customer. Luckily for us, this also means that there is wider scope for advertisers to enter the picture. Since individuals of all demographics watch YouTube, advertising on the channel is more straightforward as compared to other mediums. Here are some facts about how YouTube benefits businesses and Marketers:
According to research, 8 out of 10 Marketers consider YouTube to be the most effective video platform
90% of Google's 2 billion+ user base rely on YouTube to discover new products. Moreover, nearly 70% of YouTube users claim that videos help them make a purchase decision
Videos are an immensely powerful medium of short-format content. The emotional impact delivered by a video is far more memorable and significant than a heap of text for example.
However, succeeding on YouTube takes a lot more than simply taking out your camera and recording. Numerous big brands have tried this and have only seen a few subscribers or views as a result. Doing well on YouTube requires a well-thought out strategy. Not only would you need to make great videos, but also how to best optimise the videos around keywords and topics. Getting the SEO right to deliver what people on YouTube care about is just as important.
Here are some ways on how you can get started with a bulletproof YouTube marketing campaign.
1. Create a YouTube channel
This one's a no brainer, but we had to mention it. Before getting started, you need to have a YouTube channel to work with. To do so, head over to Google and select 'Sign in'. If you already have a Google account, you will have access to a YouTube channel. However, if you don't, follow the steps and create one:
Once you've clicked on 'Sign in', click on 'Create account'. Then, 'To manage my business'.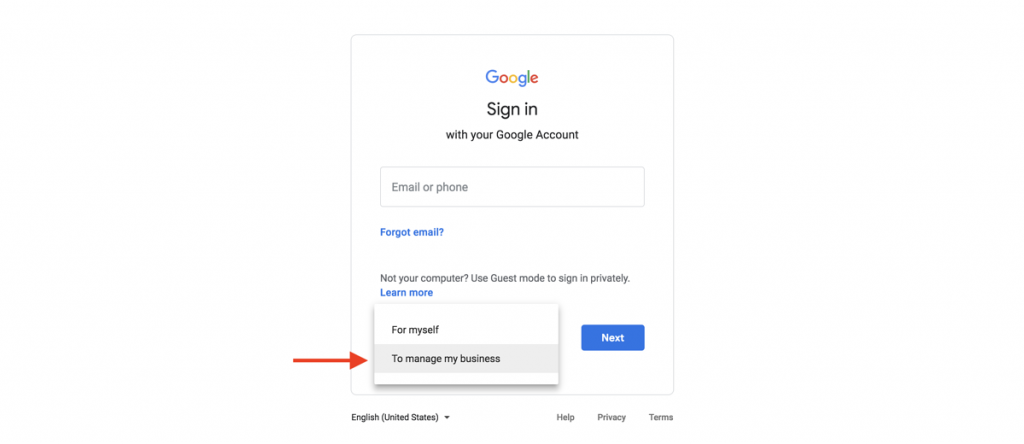 Follow the on-screen instructions and you should be through. Once done, head over to YouTube and sign in using your login info. You should see the YouTube home page.
2. Customise your channel
Before you get started with videos, you need to polish your brand identity. Click on the user icon on the top right, and go to 'My channel'.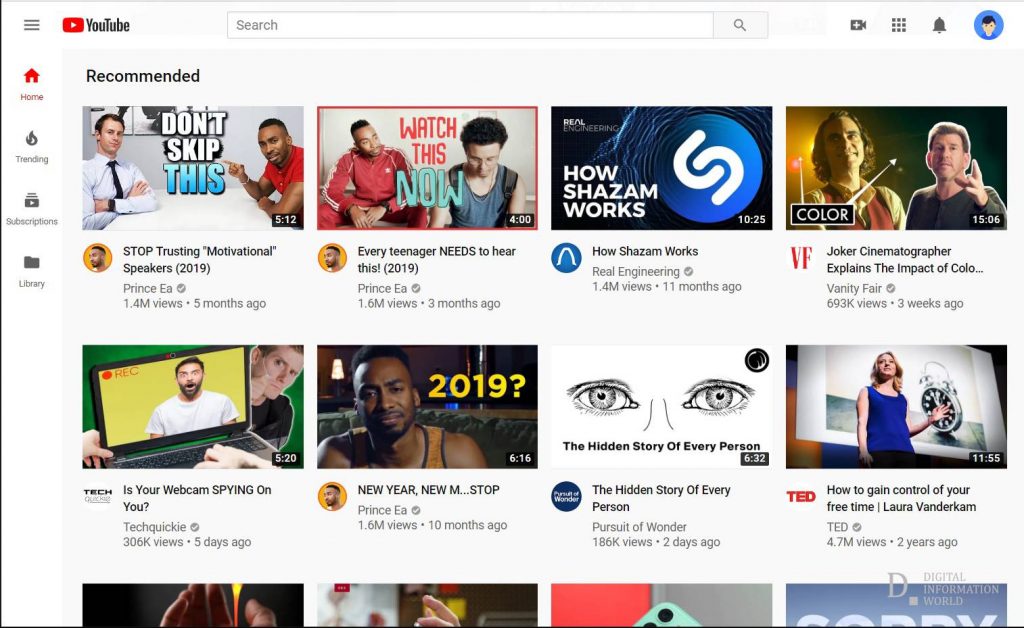 Then, click on 'Use a business or other name'; that's when you enter your brand's name. Once that's done, click on 'customise channel'. You should see the following page: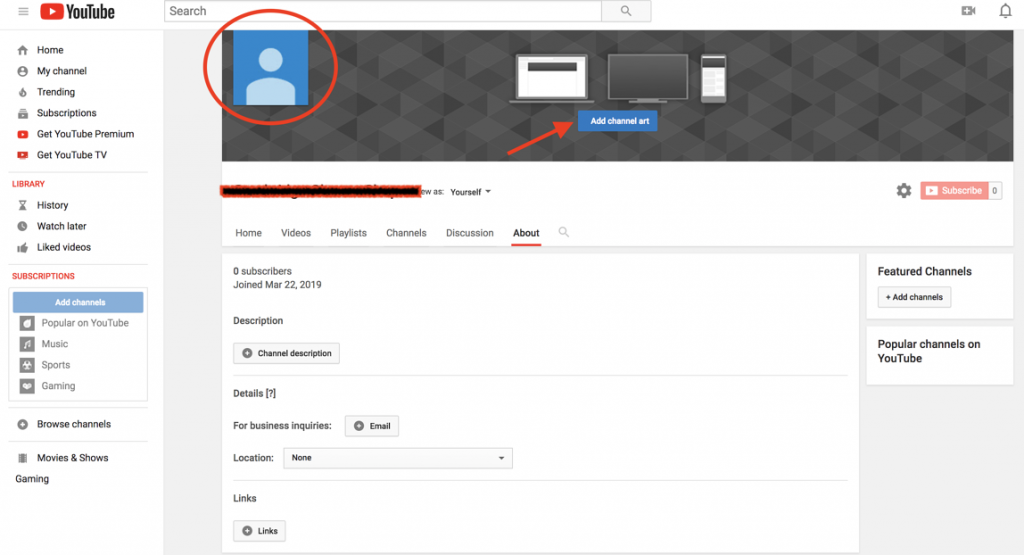 It's important to get this part right. This is where customers will see your channel info. Here, you can add channel art, description, as well as links and information about your business.
Play around with this until you've designed your channel as desired.
3. Learn your audience and competition
The last step before coming to videos, you need to know who you're dealing with and who you're aiming for. Find out who your target audience is and tailor your content to appeal to them. For example, younger individuals prefer short-form content such as tutorials, short clips and vlogs. Also keep in mind to check your competition and whether they have a good channel. Use keywords to find out which videos perform well, and how they're making their content. Drawing inspiration from them can help you when you make your own content.
4. Video guidelines
Now we get to the fun bit. We won't outline exactly what videos to make, since that depends on your company. However, here are some pointers to be mindful of when uploading videos.
Optimise your video's SEO title: YouTube is a search engine like Google. So it's crucial that you use keywords, descriptions and titles that attract users. YouTube's recommendation algorithm determine 70% of what people watch. Write a strong title that has words people search for. Use a catchy thumbnail that makes people want to click. Most importantly, use keywords in your description along with hashtags.


Make it easy and to the point: Videos and titles that answer a question or deliver straightforwardly do well. Consider tutorial videos or how-to guides to start off with. You can also use list-based videos that incorporate educational, informative and entertaining factors to keep people hooked. Showcasing products or case studies can also work if presented the right way.


Use cards, end screens and watermarks: These are essentially CTAs that you can add to your videos. These will help drive actions to potentially convert prospects to customers. Find out more about these hacks here.
Managing your channel
Like most other parts of life, consistency is the key to success. Committing to a schedule is crucial if you want to see success with YouTube. The more content you put out, the higher chances you have of reaching a wide audience.
Most successful YouTubers have a strict publishing schedule that they stick to. Videos are promoted on other social media platforms (Facebook, Instagram, LinkedIn) for further reach. When deciding your strategy, plan a realistic schedule that you can commit to for posting content. Secondly, consider publishing consistently at a specific time and day. This can be either weekly, fortnightly or monthly. This will keep fans excited as they anticipate your next upload.
To Wrap up…
Amidst the social media channels of Facebook and Instagram, YouTube has moved up the ranks to become a prominent Marketing platform. Keep these steps in mind and get started on the YouTube marketing train to see results in no time!
Is YouTube marketing effective?
With 2 billion YouTube users logging in each month, YouTube is undoubtedly a lucrative platform for marketers. Given that nearly 70% of people rely on YouTube to find products, you can potentially market any good or service on YouTube. YouTube's algorithm is also effective at helping businesses target consumers based on different demographics.
What's more? YouTube's analytics allow companies to track metrics in real time, patterns in viewership history and also full-view rates for videos. By customising your channel, you can decide however you want to position your brand. Needless to say, YouTube can do wonders for your business.
YouTube marketing vs Facebook or Instagram?
Each social media platform comes with its own set of pros and cons. It's 2021, and people are watching more videos today than ever before, especially on mobile devices. While it's true that you can have video-based advertising on Facebook and Instagram, YouTube is the dedicated, most well-known platform to watch videos. The best strategy, therefore is to use a mix of various advertising platforms and link them together. For example, you may choose to have short 10-15 second clip advertised on YouTube, that leads to your website. You could also have a call-to-action (CTA) that leads prospects to your social pages.
For more information on how to start a Facebook ad campaign, check out our article here.
How to start YouTube marketing?
You can begin your YouTube marketing campaign by following a handful of easy steps. First, create a Google account or if you already have one, head over to YouTube. From there on, you can start customising your brand's channel by adding artworks, descriptions and links. YouTube makes it quite easy to improve the quality of your videos. Make sure you film in at least 720p resolution, preferably 1080p. Also, keep your video's SEO titles concise in order to gain higher reach. Adding logos and watermarks will also improve the presentation of your content.
Once you're about to consistently upload videos, you can focus on analysing metrics and track progress along the way.
Insil is a boutique Australian Marketing Agency, dedicated to providing customers with a holistic approach to Design Thinking and Marketing Services. 
If you're interested in generating more sales, increasing traffic and attracting higher quality leads, sign-up to receive a free, no-obligation strategy session TODAY.