It's officially been over 6 months since the Covid-19 pandemic began, putting the whole world into a state of dread and isolation. The virus has affected nearly 190 countries worldwide, as cases continue to rise in certain regions. A report by PwC Australia estimated that the pandemic could effectively reduce Australia's GDP by $34.2 billion.

However, the pandemic also gave rise to the trend of online work. As companies shut their offices to minimise the spread of the virus, a new work from home culture emerged. Although work from home initially seemed difficult to implement, managers soon realised its benefits and employed tasks to complete at home.
Marketing is no different, and working from home should not limit your sales potential. In this article, we've laid out 5 easy tips/tricks you can use to see results from your work from home marketing campaign. These tips are low cost and can be implemented from the comfort of your home. With these work from home tips, your company will experience an increase in sales in no time. In case you're tired of Netflix binges, TikTok videos and Zoom meetings, read on below!
---
Tip #1. Organise Webinars for Customers

Frequently organised seminars prior to Covid-19? Switch to webinars! The following chart illustrates the change in webinar attendance in USA due to Covid-19: (source)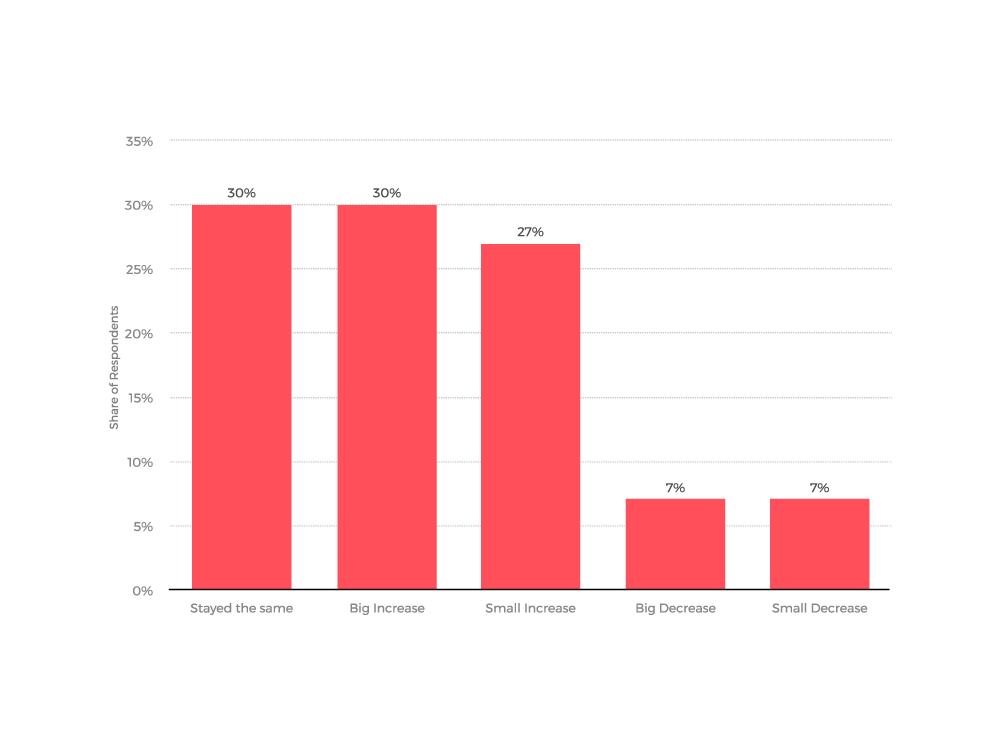 Most people work from home these days. Therefore, webinars can be a great way to add a different dimension to your online content and customer engagement. This can be by either interviewing a guest, or discussing a certain Marketing topic with Q n A for customers. These webinars allow for active customer interaction which would enable you to personally speak with them. Personal engagement could further help secure better leads, rather than solely relying on digital marketing.

Tip #2. Publish fresh, online content

Covid-19 and social distancing policies have caused people to work from home. Therefore, this is a great time to publish fresh online content in the form of blogs, articles, videos and case studies on your website. A recent report found that since the beginning of the pandemic, total blog and online viewership has increased tenfold. If your online content is not kept up to date, you're missing out on some serious lead generating opportunities.
Here is what you can add to your online content page:
Blogs/articles: These can be based on new trends in Marketing, tutorial guides, comparisons, etc.

Videos: Videos can appeal to a wider audience, who may not want to read all the time. A short 3-4 minute video with client testimonials for your company will do well to inform new customers about your services.

Case studies: Showcasing your previous client work, results and data in the form of detailed case studies will also help improve your online profile. Having a variety of industry examples will broaden your reach with this.
Customers WANT content. So with your work from home marketing campaign, know that more content = more sales.

Tip #3. Increase Social Media Promotion

It comes as no surprise that because of Covid-19, social media usage has increased. With more time spent as work from home, people of all ages are surfing the web, consuming content on social media platforms.
Since the pandemic began, Australians have reportedly been spending 33% more time on social media. Furthermore, LinkedIn's global user base grew by over 25 million during the first quarter of 2020. Similarly, companies have increased their own work from home marketing activity.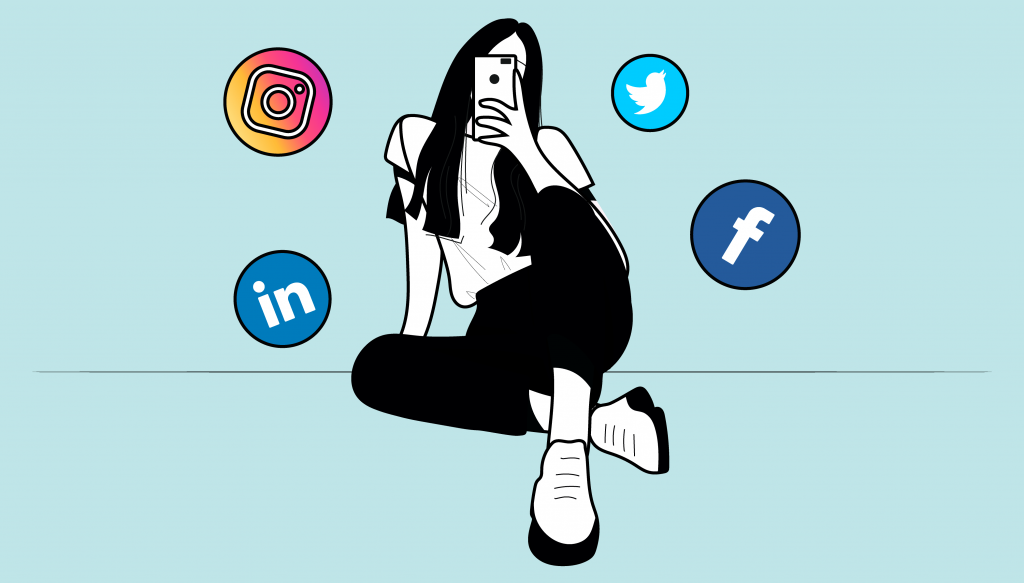 What does this mean for you?
In order to stay within the loop, you NEED to actively promote your social media profiles. Frequently updating your social media pages with notifications about fresh content, news and events is essential. This will help inform customers about all your recent activity, keeping them engaged with your business. For more information on how to take advantage of the usage increase for your business, check out our article here.
Tip #4. Fix your SEO

Assuming you're already doing the first 3 points on this article, here's a chance to polish your work. Revisiting old articles and content to check the SEO data can show you how well your pages rank. Often at times, the excitement of publishing new content could lead to you overlooking the status of old posts. Ensuring that your posts rank well and high on Google is crucial to bringing more people to your website.

Cleaning up old SEO can easily be done as work from home. Simply open your old articles, check the keywords/keyphrases, how well they read and how high they rank. From there, make the necessary changes, along with any images or outbound links if relevant, and see your pages appear higher on Google. Another useful way to track your metrics, is to install a Facebook Tracking Pixel. This is a powerful tool that can also be installed with your work from home marketing. To check out why and how you should install one, visit our recent article here.
Tip #5. Clean up your Website

With your SEO cleaned up, the next step is to do the same for your website. As more and more customers spend time at home, naturally they would be visiting your website more often. Outdated contact information, old & cliche images, spelling mistakes and monotonous content can ruin your chances of securing high quality leads.
The fix? Clean up your website! A well-designed, professional website indicates skill and proficiency with your work. Having an interactive, appealing website would invite more customers to see your work, potentially increasing sales. If you're too busy, hire a web designer or UX expert to take care of it. A new revamp to the outlook of the site can also help, if appropriate.
Follow these 5 tips to see more results from your work from home marketing campaign.
---

Sources:

https://www.pwc.com.au/publications/australia-matters/economic-consequences-coronavirus-COVID-19-pandemic.pdf
https://blog.chartbeat.com/2020/07/29/audience-analysis-global-pandemic-readership/
https://www.statista.com/statistics/1169357/webinar-attendance-coronavirus-marketers-united-states/

Insil is a boutique Australian Marketing Agency, dedicated to providing customers with a holistic approach to Design Thinking and Marketing Services.
If you're interested in generating more sales, increasing traffic and attracting higher quality leads, sign-up to receive a free, no-obligation strategy session TODAY.


Which type of online content is best to publish?
Having a variety of online content formats is beneficial to the overall look and feel of your website. Blog posts and articles would appeal to visual customers who like reading. Here, you can showcase data metrics and outline case studies, discuss topics and inform them about your business. Conversely, videos allow for better engagement between the business and the customer. People who don't like to read, may like to watch a short 3-4 minute clip that has a testimonial or previous client, who can attest to your business' skillset.
How to best promote my social media pages?
Writing posts, sharing videos and links, publishing articles and engaging with your audience are all different ways to keeping your social media pages active. People are spending more and more time browsing Facebook, Instagram, Twitter and of course, LinkedIn. Keeping your company page active will not only get you more likes and followers, but also retain current customers and show them your work from home abilities.
How to clean up my SEO and website?
An easy way to fix your SEO is to do a thorough keyword analysis for your site's pages and check how well they rank on Google's search domain. Add more keywords, keyphrases and evenly space them throughout your articles to increase SEO score. Alternatively, you can install an SEO plugin for further guidance.

For your website, a simple read through down your site content to scan for spell-checks, grammar and punctuation is a good starting point. From there, you can assess whether your contact information is up to date, images are fresh and appealing, and the overall outlook of the website is attractive to look at.