Google Analytics is the cornerstone of digital marketing. As Marketers, using Google Analytics is a crucial skill to have when monitoring website performance, target audience activity and behaviour to plan strategies. When it comes to providing comprehensive, detailed analysis of data, Google Analytics is second to none. Millions of businesses use Google's Analytical reporting tool to track website activity, traffic and progress on achieving KPIs. A short while ago, we published an article on how to add a Google Analytics Tag to your website. That was where we outlined a step-by-process to help you get started. In this article, we're going to be talking about something a little more recent. A new way of looking at Google Analytics and data. We're talking about Google Analytics 4, what it is, why you need it and how you can add it to your website. Read on below!
What is Google Analytics 4?
Google Analytics 4, also known as GA4 is the latest, most recent version of Google Analytics. It's more than just an update, but rather a whole new model of the software we all know and love. Google describes Google Analytics 4 as a 'next generation' approach to tracking, that relies on artificial intelligence to collate data with better accuracy. With these advanced machine learning softwares, the new Google Analytics 4 model will be able to fill data on website activity and traffic without necessarily having 'visits' come from each page.
With more and more people becoming aware of internet privacy, universal analytics will become limited in its ability to collect data. Thus, Google Analytics 4 addresses this issue, by collecting what can be measured and feeding it into its algorithms. It then proceeds to build model reports on users to predict what the data might be if all user information could be collected.
To sum up, Google Analytics 4 can help produce reports that help marketers make more accurate assessments of their audience. Businesses can then make better decisions for strategy, involving social media ads and campaigns.
How does Google Analytics 4 work?
Google Analytics 4 uses 'AI powered insights' to automatically highlight useful information for marketers. Here are some of the capabilities of GA4:
Codeless event tracking: It will allow Marketers to edit and refine events without having to directly edit on-site coding

Streamlined data controls: It features data streams rather than views and segments used by older universal analytics

Cross domain tracking: Using signed-in data from Google, GA4 will provide a detailed view on customer journeys to improve advertising performance. Cross-domain tracking will be possible within the UI itself.

Better audience integration: GA4 builds and maintains audiences from the visitors on the website and the app. Therefore, qualified users who completed a purchase would automatically be removed to avoid retargeting.
In addition to these, GA4 will rely on Machine Learning to utilize big data to come up with better predictions and insights. In a world where third-party cookies are fading away, Machine learning will fill in the gaps.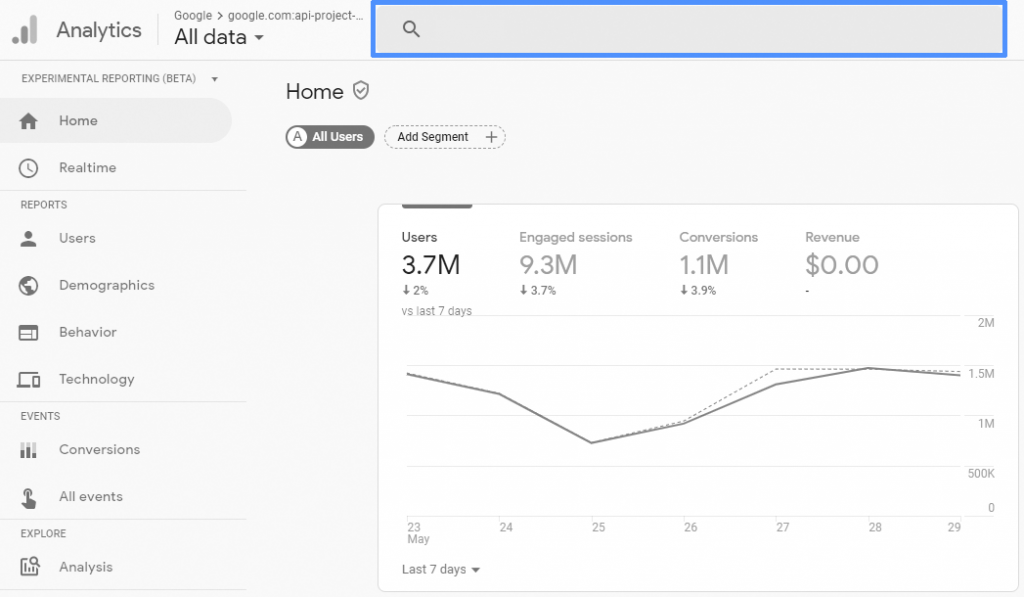 GA4 Benefits for Marketers:
Given everything we discussed, how can Google Analytics 4 help Marketers? Here are some of the potential benefits we can expect from GA4:
Analytics without cookies: As we mentioned, people nowadays are becoming more and more aware of internet privacy. Third party cookies are beginning to phase out, as Google estimates increases in data sparsity. Here's where GA4's machine learning will fill the gaps. GA4 uses 'Events' to track actions such as page views, purchases or form submissions. This streamlines the analytical process by making it easier to cross-reference information since everything is as an event. For example, you can expect a funnel report to illustrate how many people land on a particular page, how many click on a specific button, to who views a certain image or video, at what point in time. Convenient isn't it?


Better insights: GA4's AI algorithm will use trends in data collection to provide smarter insights. GA4 can also help anticipate future customer actions based on past behaviour, why some customers spend more than others, and how much to invest under each situation. Hence, deeper integration will help Marketers make better decisions around campaign strategies. Ultimately, this can lead to better ROI figures.



Customer journey overview: GA4 will improve the way reports are visually organised by keeping it focused around the customer journey lifecycle. reports are designed to help Marketers narrow down to particular aspects of the customer journey. Therefore, GA4 will help assess the channels that move new customers down the Marketing funnel. It will then use engagement and retention reports to analyse their actions, and whether or not to implement retargeting efforts for conversion.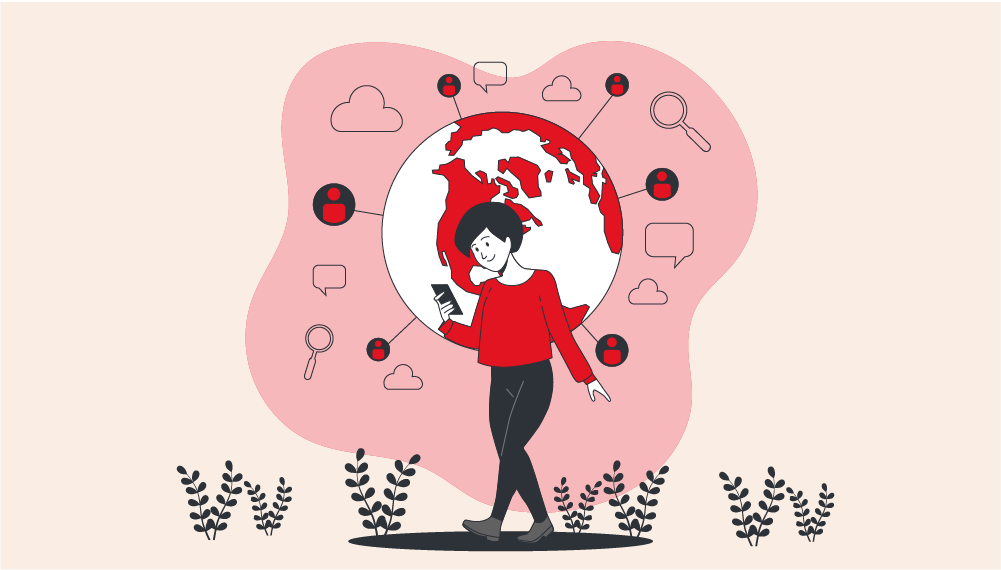 Setting up Google Analytics 4:
Now that you know why you should be switching to GA4, let's discuss the steps on how to set it up:
Sign into your Google Analytics Account and go to 'Admin'

Select the account for which you'd like to create a property, then select 'New Property'

If you don't have an existing property, the newly created one will, by default be a GA4 property. If you already have a Universal Analytics property, select 'Upgrade to GA4′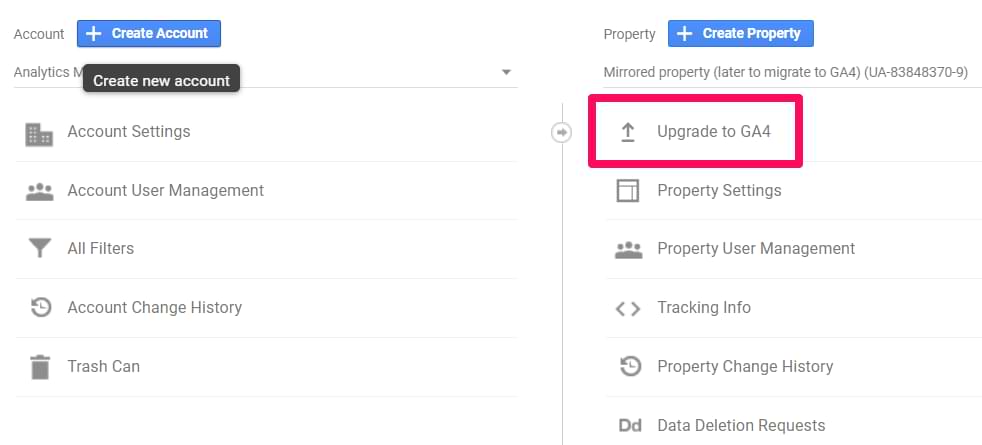 And that's it! Under the GA4 properties, you may come across the following reports and configuration options:
Home: This is the main page, providing overviews on number of users, events, conversions and sales. Any trends your data captures will be visible here

Real time: This is a bird's eye view of the people who are currently viewing your site or page

Engagement & Retention: Here, you can understand people's activity on your website, as well as how often they visit and return to your page

Explorer reports: These include any custom analyses for funnels and audience demographic segments that track the status of leads and prospects.
Final thoughts:
Google Analytics 4 is a step in the right direction as far as advertising and analytics goes. It's important to note that Google recommends waiting a while before switching to GA4. This is because businesses would need time to set up GA4, while also collecting historical data for it to use. Right now, setting up a new analytics property and using dual tagging to run GA4 and universal analytics is recommended. Being the future of digital marketing, business across industries will jump on the GA4 train to reap the benefits provided.
What's new in Google Analytics 4?
GA4 uses artificial intelligence to collect data with much higher accuracy. Using machine learning algorithms, GA4 aims to fill in gaps in data that may arise due to elimination of cookies and people becoming more aware of privacy. This is where universal analytics may fall short in its ability to collect high quality data.
How will GA4 help Marketers?
GA4 and its efficient data collation methods will streamline the process for marketers, making it easier to analyse data. Comprehensive and detailed reporting, combined with AI algorithms will provide better, smarter insights for businesses. Visual elaboration of the customer journey helps assess what stage each customer is on. This can assist companies in formulating Marketing strategies and manage their campaigns more effectively.
Should I install GA4?
As we outlined above, installing Google Analytics 4 will only take you a few minutes if you follow an easy 3 step process. However, since it's still new, Google recommends waiting before you switch to GA4. Why? Because the software would need time to gather data to be analysed! That's why companies are using GA4 with universal analytics before making the big switch. We suggest the same. Use both for now, collect data and then use the power of GA4 to maximise your results.
Insil is a boutique Australian Marketing Agency, providing customers with a holistic approach to Design Thinking and Marketing Services. Are you interested in generating more sales, increasing traffic and attracting higher quality leads? Sign-up to receive a free, no-obligation strategy session TODAY.