When we think of social media apps, the usual names that pop up are Facebook, Instagram, Twitter and Snapchat. Maybe after 2020, TikTok joins the ranks. However, not many people talk about LinkedIn as much as the ones mentioned above. What these people often forget is that since 2002, LinkedIn's user base has substantially grown with developments in technology, markets and employment. Today, LinkedIn has over 760 million accounts with over 260 million monthly active users across 160 countries worldwide. Naturally, this makes it a lucrative site for Marketing. In this article, we share a simple step-by-step guide on how to install a LinkedIn Insight Tag to your website.
The Growth of LinkedIn:
For a long time, LinkedIn has had a reputation for being a pseudo social media site, as the 'Facebook for recruitment'. The truth is that the search intent and frequency of 'LinkedIn' has more than doubled over the past decade. This chart perfectly illustrates LinkedIn's search growth since 2010: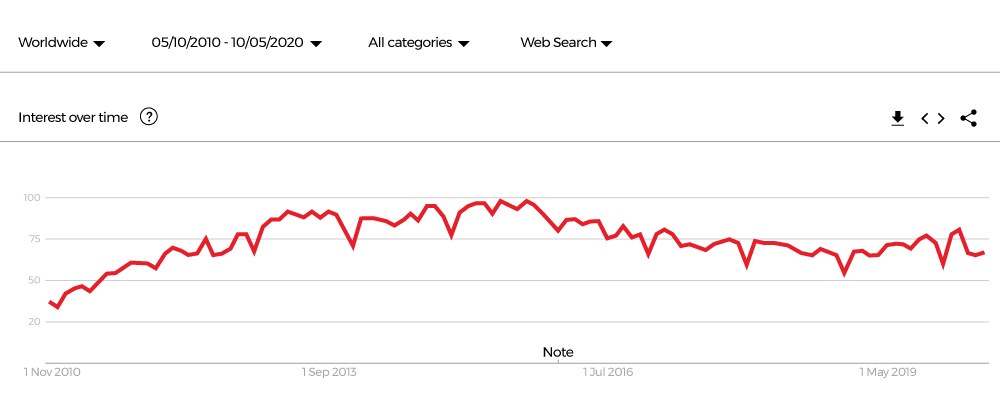 For parent company Microsoft, LinkedIn's revenue is multiplying year on year, with more and more recruiters and companies utilising its services. LinkedIn premium allows users to rank higher on search results, helping them land a job better. LinkedIn is also home to plenty of job opportunities, advertisements and links, enabling an easy medium to accept applications. For those working in creative industries, adding a portfolio on their LinkedIn account is as easy as clicking a button. No surprise it helps recruiters kick off their hiring process by how professional a prospects' profile is.
What is a LinkedIn Insight Tag?
Simply put, a LinkedIn Insight Tag is a piece of lightweight Javascript code that powers conversion tracking, website traffic and demographics for LinkedIn ad campaigns. Similar to a Facebook Tracking Pixel and a Google Tracking Pixel, a LinkedIn Insight Tag is responsible for tracking how much traffic your website invites, along with visitor behaviour to help plan your Marketing campaign. With detailed insights on LinkedIn Ad conversions, businesses can remarket or make changes to their campaigns to improve performance and lead acquisition.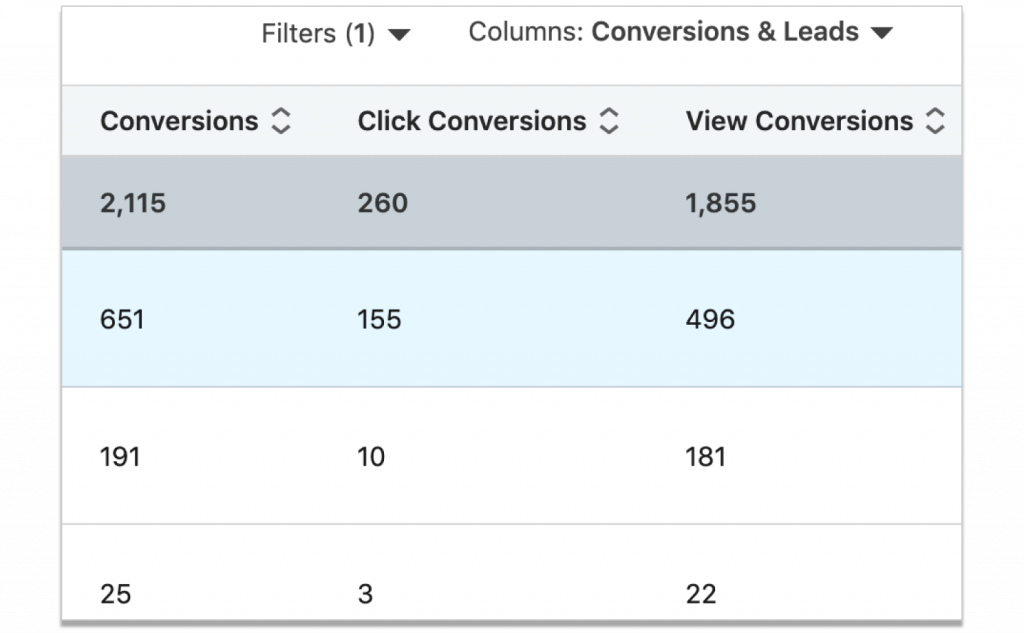 Using LinkedIn's Conversion Tracking metrics, Marketers can also identify audience demographics such as job titles, companies and industries. All in all, if you rely on LinkedIn for a lot of your website traffic and digital marketing, a LinkedIn Insight Tag is perfect for your business. So how exactly do we install one?
Step 1: Sign into LinkedIn Campaign Manager
To kick things off, head over the Campaign Manager website and create your account. You're going to need this in order to monitor your metrics. Once you've entered your account name, preferred currency and linked profile, you'll be redirected to the campaign manager dashboard. It should look something like this: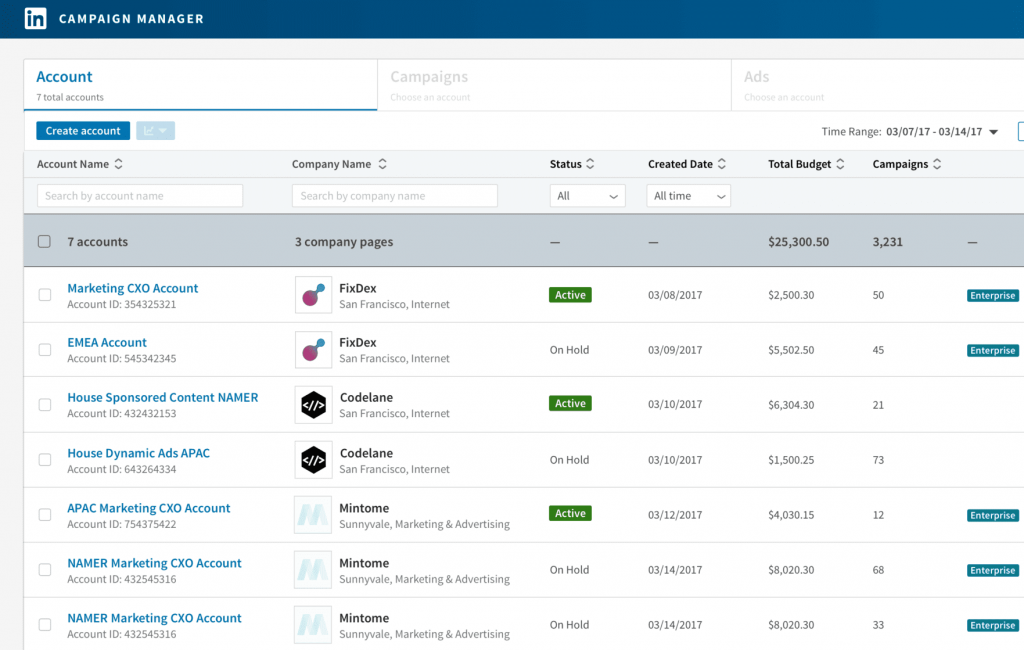 If this is your first LinkedIn ad campaign, you're only going to be seeing one appear on the list. Click on it to proceed.
Step 2: Find your LinkedIn Insight Tag
In order to start seeing results, you'll need to find the insight tag to your website. Once you've clicked on your campaign, you'll be redirected to another more comprehensive list page. Once there, click on 'Account Assets' and from the drop down menu, click on 'Insight Tag'.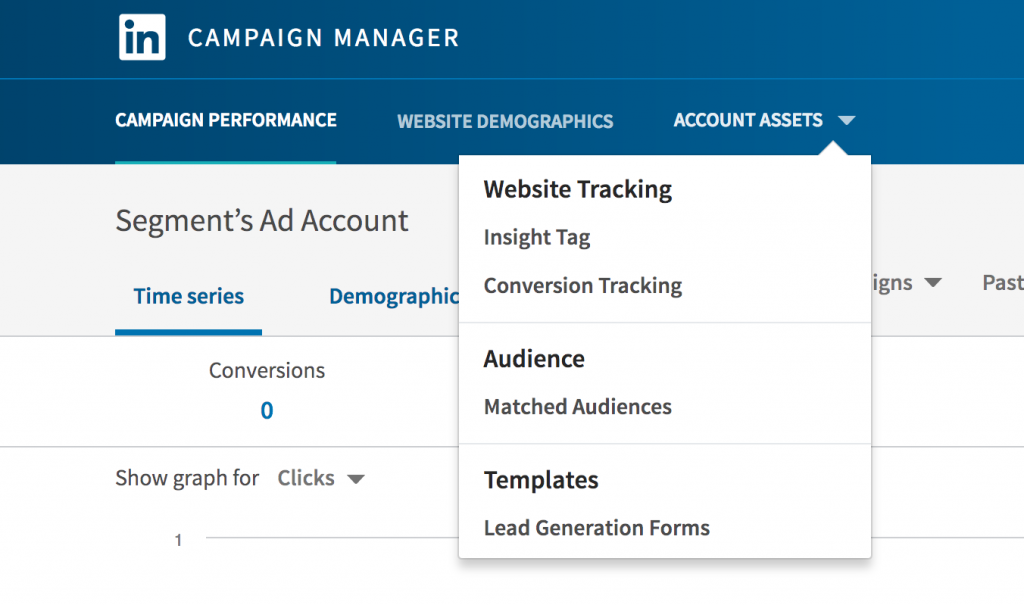 Next, click on 'See my Insight Tag' and you'll be presented with 3 options: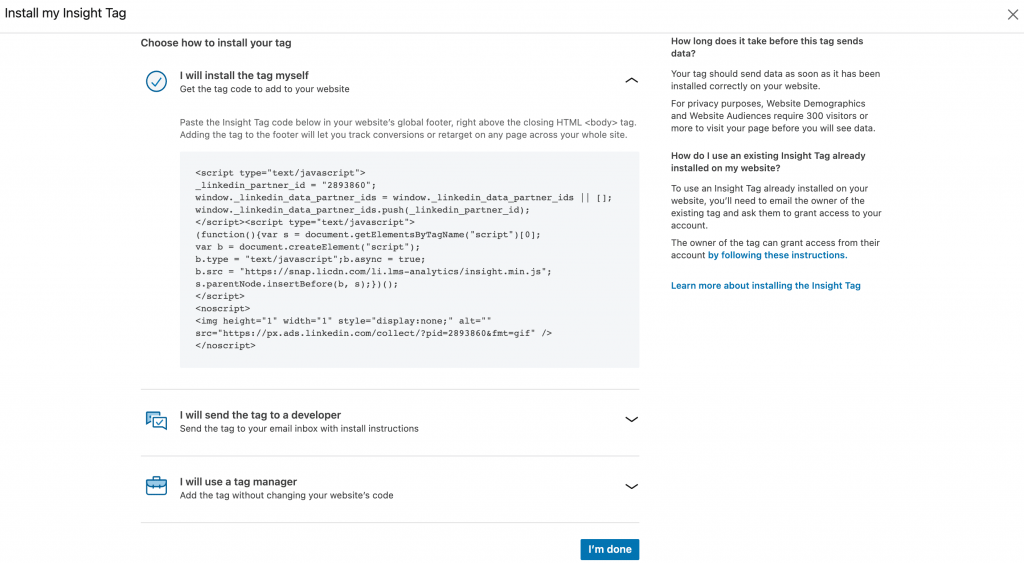 Step 3: Install your LinkedIn Insight Tag
If you wish to install the tag yourself, simply copy the code in the box and click 'I'm done'. Next, add the Javascript code to every page on your website domain. Ideally, this should be towards the end of the <body> tag in your global footer. Once LinkedIn receives the signal from the tag that it's working, it'll show up as 'active' under the Insight Tags page.
Next steps: Get to Conversion Tracking!
Installing the LinkedIn Insight Tag is merely the tip of the iceberg. In order to reap the full benefits of this powerful tool, you need to measure its progress periodically. Enter LinkedIn Conversion Tracking! LinkedIn's Conversion Tracking is an analytical function that is powered by the LinkedIn Insight Tag. Any action your customers or visitors take that are valuable for your business, are recorded as 'conversions'. Effective conversion tracking can help you assess potential click through rates and ROI for your ads.
Say for example you publish an ad about a new networking event organised by your company. Information about the venue, ticket prices and times are mentioned on the ad, linked through to LinkedIn. Any new customer that purchased your ticket, would be recorded as a 'conversion' through LinkedIn.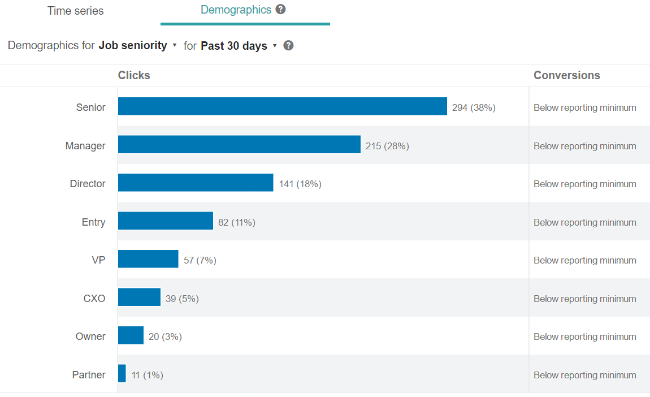 Since LinkedIn is used by a wide range of individuals, you can segment your search and specifically view the demographics that align with your target audience.
How to create a Conversion?
In order to create a conversion, head once again to the Campaign Manager and follow steps 1 and 2 above. This time, when you click on 'Account Assets', select 'Conversions' from the drop down menu. This will present a wide range of options and settings to choose for your conversion.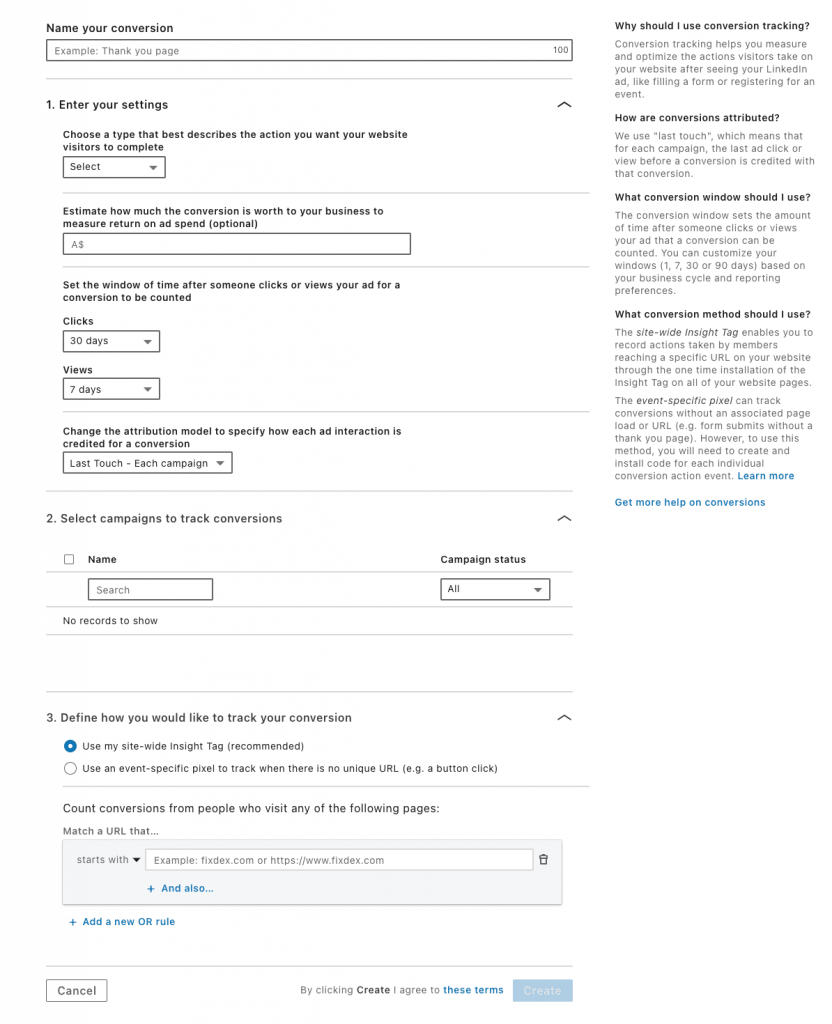 Here are some of the conversion types you can choose from:
Leads: People who sign up for an offer
Signup: People registering for a specific event
Purchase: When someone buys your product
Download: When someone downloads a file (video, image, e-book, etc.)
Install: When someone installs an app or a software.
Depending on the goals of your campaign, you can select and assign values to each conversion type, prioritising the ones you need. For example, your budget allocation towards a lead generation conversion may be higher or lower than an app installation conversion, based on your objectives. Once you've assigned values to your conversions and planned a budget, you can set a time period and assess the ROI of your ads. This can be done through conversion cost vs. conversion value.
All the data your LinkedIn Insight Tag and Conversions collect, will be recorded and displayed under your campaign manager. From there on, you can measure performance and make changes to your campaign.
Final Thoughts…
A LinkedIn Insight Tag can set your business apart from the others who only rely on traditional modes of Marketing. Amidst Facebook, Google and Instagram, LinkedIn LinkedIn Marketing is slowly becoming a popular choice for Marketers. LinkedIn is an untapped market, one that's estimated to grow over the next few years. Now that you know how to install a LinkedIn Insight Tag, get on board and measure your success with ease!
Is LinkedIn Marketing better than Google or Facebook?
Over the past few years, LinkedIn's user base has grown substantially; consisting of students, employees, recruiters, managers and directors. Companies often rely on LinkedIn profiles, links and portfolios to assess a prospect. People across the globe have realised the importance of a good LinkedIn profile. So there is a lot of traffic generated on LinkedIn. Most companies are advertising on Google and Facebook, so if you want to set yourself apart, try LinkedIn advertising.

When it comes to the big social media website companies, each have their own value offering to customers. Just like people choose to have a Google, Facebook, Instagram and a LinkedIn account, Marketers choose to advertise on each as well. For more information, check out our articles on starting a Facebook Ad Campaign and/or a Google Search Ads campaign.
What does a LinkedIn Insight Tag do?
Put simply, a LinkedIn Insight Tag is a piece of Javascript code that measures the amount of traffic your website generates from LinkedIn. Any information on website visitors, along with their on-site behaviour such as page switching, link clicking or downloads is recorded by the Tag. This information is then translated into the Conversion Tracking datachart, which can be used to set goals, see ad performance, and make changes to campaigns.

The LinkedIn Insight Tag is similar to a Facebook Tracking Pixel and a Google Analytics Tag. Unfamiliar with those? Check out our articles on how to add a Facebook Tracking Pixel and/or a Google Analytics Tag to your website.
What conversions can I set for my campaign?
Depending on the goal of your Marketing campaign, you can choose from a list of possible conversions for your ads. Therefore, conversions may differ from business to business. For example, a business seeking to improve brand awareness may be more focused on lead generation. Similarly, an existing business seeking more app downloads may prefer more software downloads or video tutorial views. LinkedIn's campaign manager gives you a range of options to choose from, also giving you the flexibility to narrow down to the finer details. This allows for a customisable conversion setting, one that will help you achieve your goals in the most effective way possible.
Insil is a boutique Australian Marketing Agency, providing customers with a holistic approach to Design Thinking and Marketing Services.
If you're interested in generating more sales, increasing traffic and attracting higher quality leads, sign-up to receive a free, no-obligation strategy session TODAY.